HC asks Centre to pitch in to revive Sukhna Lake
Updated on May 02, 2017 01:54 PM IST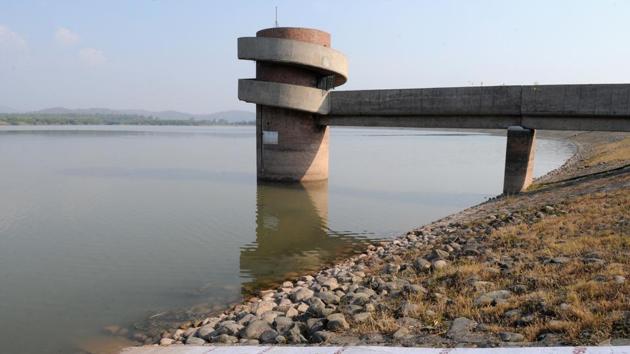 The Punjab and Haryana high court on Monday asked two ministries of the Central government to pitch in to save Sukhna Lake.
The water level on April 30 dipped to 1,153.30 feet (from the sea level) on Sunday. It the level dips below 1150-feet mark on the scale, the lake bed will be visible in most of its parts. When the scale touches 1163-feet mark, the authorities open the gates to move the surplus water out. Ideally, the lake's depth should be 13 feet.
"If the water level goes below 1,151 feet (from the sea level) on the scale, it will not be possible to allow boating in the lake. Water is evaporating fast," said an official.
During the resumed hearing of a suo motu petition initiated in 2009 on the revival of the lake, the high court bench of justice Ajay Kumar Mittal and justice Ramendra Jain directed the Centre's ministry of water resources and ministry of environment and forests to depute one official each for the May 22 hearing to apprise the court on steps needed to revive the lake.
The water level in the lake has been falling drastically these days due to a rise in temperature and scanty rainfall in past few months. The lake was supplied 1.5 million gallons daily (MGD) water from tubewells between January and March but it did not help in increasing the level. The HC also asked the Chandigarh administration to associate departments of local bodies and public and irrigation of Punjab and Haryana with a panel constituted by administration on a 2011 court direction to take steps for conservation of the lake.
Earlier, responding to directions of HC of April 19, senior standing counsel, UT, Suvir Sehgal had told the court that a panel was in place since 2011 as directed by the court. The panel, headed by conservator of forests, UT, had nine members, when formed in 2011. In April 2012, secretary, engineering was made the head of the panel and two more members were also increased, Sehgal told the court. The affidavit of the administration reveals that the committee has not met since April 2014.
Meanwhile, the court was also told that as regard to pathways at Sukhna Lake, the work to improve the lighting system was underway for which work has been allotted on April 20, which is to be completed within two months.
Personalise your news feed. Follow trending topics