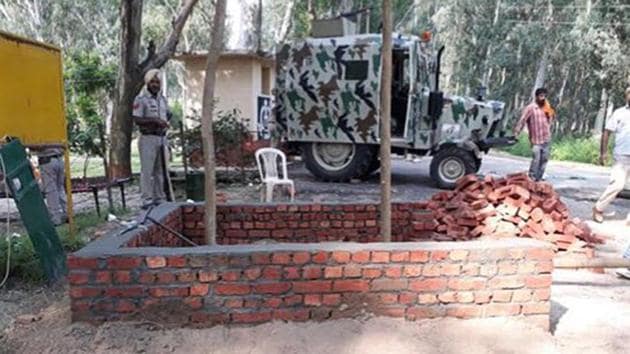 On Indo-Pak border, Punjab Police working in tandem with BSF
Apart from being part of joint nakas at some places, cops also being trained in weapon-handling and tactical issues
UPDATED ON JUL 28, 2017 03:41 PM IST
Having strengthened the second line of defence along the India-Pakistan border, the Punjab Police are now working in close coordination with the Border Security Force (BSF) on various security aspects.
Joint nakas (checkposts) have been set up near the border and cops are also being trained in weapon handling and tactical issues at the BSF shooting ranges these days.
In the entire border range starting from Pathankot to Amritsar, the cops are working in tandem with the BSF, while sharing vital inputs. Talking to HT, a BSF official said, "The police and BSF are working in close coordination. Cops are also being trained in weapon-handling and tactical issues."
The police had already added to its border prowess by camping extra force and pressing into service bullet-proof tractors and Scorpios. Special nakas are now providing for 'permanent morchas' in the entire border range.
The police are on alert along the border these days and top officers are keeping a close eye on the situation. In the wake of inputs that there can be some attempts of infiltration, the police are extra vigilant. They are also keeping in mind the upcoming Independence Day.
Officials in the border range are on their toes and seek regular updates on any development taking place in the region. Having set up bullet-proof nakas in the border range, cops are patrolling on vehicles equipped with light machine guns (LMGs) in the region. Additional director general of police (ADGP-border) Harpreet Sidhu is also making regular visits to the border to ensure that security arrangements are foolproof.
The 'permanent morchas' are being built to ensure that the police personnel stay alert regarding any movement near border villages or roads leading to the fence. The police are working overnight to further strengthen the second line of defence, especially in the light of the terror attack on Dinanagar police station two years ago.
Close