Palpreet Singh from Punjab's Ludhiana knocks on NBA door
Updated on Sep 28, 2016 11:02 PM IST
Palpreet Singh Brar of Ludhiana Basketball Academy eligible for selection in D League draft coming up on Oct 25, keen to play with world's best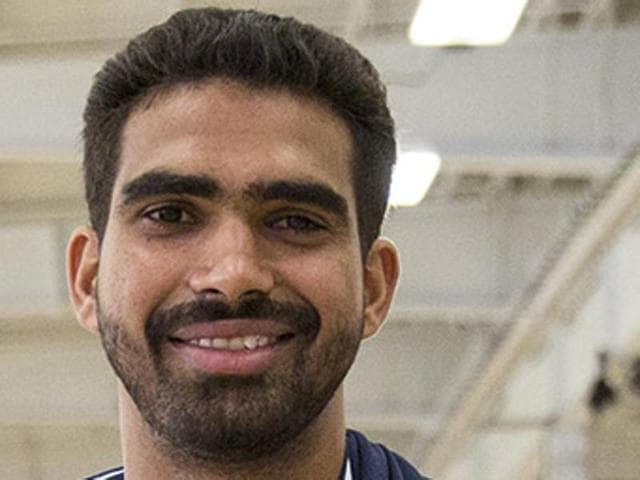 Punjab player Palpreet Singh Brar (21) is the latest Indian to chase his basketball dream in the US. He is close to signing a contract with the NBA Development League.
The winner of national finals of ACG-NBA Jump — India's first national basketball talent search programme — will now become eligible for selection in the NBA D League Draft to be held on October 25. If he makes it to the NBA, he will be the second Indian after Satnam Singh, whom Dallas Mavericks picked last year.
Both players come from Punjab's Ludhiana Basketball Academy. A 6-foot-9-inch tall Brar, who trains at the New York Athletic Club with coach Ross Burn in Manhattan, said in a statement issued here: "I have trained hard and I am confident of being picked in the draft. I will make the most of this rare opportunity."
Brar had impressed former NBA champion Brian Shaw in the ACG-NBA Jump national finals in February-end and played in the national tryouts on August 14 in New York. More than 200 pro-basketball hopefuls exhibited their talent in front of NBA D-League executives, coaches, and scouts that day.
Brar will have to compete against more than 200 other NBA aspirants. "The competition is tough but it is great to know you are competing with the best to play in the world's best league," he said. There are more NBA talent hunts planned in India and the other countries. (HTC inputs)
Close Story
U.P. cop complains about food quality, inquiry ordered

An inquiry has been ordered into allegations levelled by a police constable in Firozabad about the quality of food being served in the police mess. In a video that has gone viral on social media, police constable Manoj Kumar lamented the inferior food quality which was being served at the mess in the Reserve Police Lines. Kumar, while sitting on the divider of the highway in Firozabad, blamed police officials for neglect.

Yogi, Rajnath check on Raju Srivastava's health

Uttar Pradesh chief minister Yogi Adityanath and the Union defence minister Rajnath Singh spoke to the relatives of comedian Raju Srivastava, who was admitted to Delhi's All India Institute of Medical Sciences after suffering a heart attack, and enquired about Srivastava's health, on Thursday. Srivastava is also the chairman of Uttar Pradesh Film Development Council. Samajwadi Party president Akhilesh Yadav also wished Srivastava a speedy recovery.

Over 30 people feared dead as boat capsizes in Yamuna, in Banda

Over 30 people were feared drowned when a boat carrying 45 people, including 25 women and children, capsized in the Yamuna, in Banda district, on Thursday. Locals said most people were going to celebrate Raksha Bandhan with their siblings. SHO Marka Hemraj said that four people are confirmed dead while 13 managed to swim to safety, while 28 people are still missing. He said around 45 people were on the boat.

World Elephant Day on Friday: A walk with the mighty ones leaves actor awed

Indian actor Jennifer Winget is at the Elephant Conservation & Care Centre, run by wildlife conservation NGO, Wildlife SOS, in Mathura, and will celebrate 'World Elephant Day' there, on Friday. She reached the centre on Thursday. Every year, August 12 is celebrated as World Elephant Day to raise awareness about the world's declining elephant population. Breaking a sweat, Winget helped in creating and distributing enrichments that keep elephants physically and mentally stimulated.

SSB busts prostitution racket, rescues 17 women

Mumbai The Social Service Branch of the Mumbai police raided four flats in Navi Mumbai and rescued 17 women who were brought to the city from West Bengal, Uttar Pradesh and Madhya Pradesh and forced into prostitution. The SSB has arrested nine people of the syndicate and are looking for two main culprits who were running the prostitution racket for several years.
Personalise your news feed. Follow trending topics