Retreat ceremony at Attari-Wagah border called off after India strikes in PoK
Updated on Sep 29, 2016 09:36 PM IST
As tensions between India and Pakistan heighten furthermore following the surgical strikes conducted by the Indian Army, Border Security Force officials confirmed that the beating retreat ceremony, held at the Wagah border in Punjab, has been called off.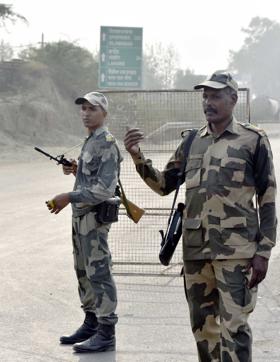 As tension escalated along the Indo-Pak border, the Border Security Force (BSF) cancelled the retreat ceremony at the Attari-Wagah border joint check-post (JCP), officials said on Thursday.
The BSF and district authorities have asked visitors and tourists not to move towards Attari for the ceremony. The retreat is carried out by the BSF and Pakistan Rangers every evening.
Must read | Surgical strikes: Punjab villages in 10 km radius from IB told to evacuate
The BSF troops were positioned near the toll plaza in Chhidden village, near Attari, who asked visitors to go back.
Meanwhile, the border along Pakistan has been put on high alert. "Operational guidelines have been issued to the troops. We are taking no chances and are ready for any situation," said a BSF official.
The border units have been asked to undertake special patrols and conduct ambushes. The BSF has also been asked to augment the number of personnel and officers along the fence.
However, the Samjhauta Express reached the Attari railway station from Pakistan with around 130 passengers on board. The train also left from the Indian side to Pakistan at the scheduled time.
The Indo-Pak trade was also not affected as there was no restriction on the movement of trucks from both sides.