Jharkhand: Muslim man attacked by irate mob for taking 'beef' to Iftar party
The victim's wife, however, claimed that the villagers had mistaken mutton for beef.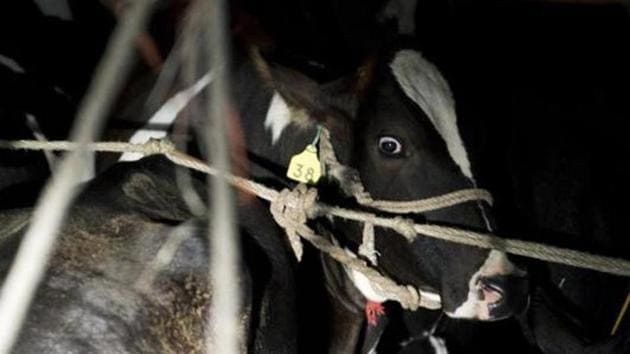 Updated on Jul 16, 2017 07:21 AM IST
Hindustan Times, Dhanbad |
Subhash Mishra
A Muslim man was assaulted by an angry mob for allegedly trying to take beef to an Iftar party at Barbadda village in Jharkhand's Dhanbad district on Tuesday morning.
The victim – identified as 35-year-old Ainul Ansari – has been admitted to the Patliputra Medical College Hospital, where he is recovering.
Police said Ansari, a resident of Murahdih, was headed to Barbadda village on a scooter when 20 people waylaid him at Loharbarba. Even as they were assaulting him, somebody informed the police.
A team led by Barbadda police station officer-in-charge Dinesh Kumar reached the scene soon afterwards, and rescued Ansari. "The irate mob insisted that we search the victim's scooter. We did so, and recovered meat – probably beef – from its storage compartment," said Kumar.
Ansari's wife, Sahida Begum, denied the allegation. "We planned to hold an Iftar party at our house on Tuesday evening. Ansari was bringing mutton for the event, but the villagers mistook it for beef," she said.
A sample of the meat has been sent to a Ranchi laboratory for identification.
The villagers have accused Ansari of trading in beef for the last three months. "They claim that he purchases the banned meat from Wasseypur in Dhanbad and sells it in the area," a police officer said.
The residents of Murahdih, however, narrate a different tale. "Something like this has never happened before. We source our mutton for Iftar parties from Dhanbad because it is cheaply available there. But there's a lot of fear now. How are we – poor village folk – supposed to celebrate the festival in such circumstances?" asked one of them.
Though tension prevails in the area, no complaint has been filed so far. "Neither Ansari nor the villagers who assaulted him have turned up to lodge an FIR," said Kumar.
This incident comes amid reports of self-declared cow-protection groups running riot across the country since the BJP's ascent to power three years ago. In 2015, a group of villagers had attacked the house of a Muslim – Mohammad Akhlaq – at Bisara village in Uttar Pradesh, and beat him to death on allegations of slaughtering a stolen calf.
Close Story
Personalise your news feed. Follow trending topics