Geetha Govindam movie review: Vijay Deverakonda, Rashmika Mandanna will win you over in this rom-com
Geetha Govindam movie review: Vijay Devarakonda and Rashmika Mandanna's film is a romantic comedy about coincidences that can kill you.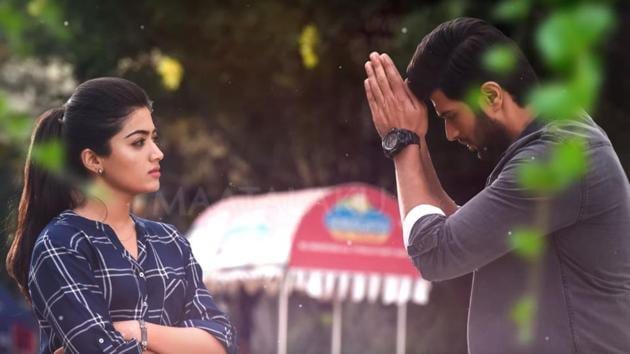 Updated on Aug 15, 2018 01:32 PM IST
Geetha Govindam
Director: Parasuram
Writer: John
Cast: Vijay Deverakonda, Rashmika Mandanna, Vennela Kishore
Rating: 3.5/5

Geetha Govindam, starring Vijay Deverakonda and Rashmika Mandanna, is a romantic comedy that begins with humour and ends on the same note. Geetha is a headstrong professional who loves her family, is a big believer of God and has a few hopes and dreams about her future. Govind is simple, impressionable and also dreams about a future where he would be married and his wife would be his everything. He meets the love of his life for the first time in a temple, which is befitting for Vijay Govind loves women who follow traditions similar to his late mother or even his sister.
The minute his eyes meet hers, he decides that Geetha would be his everything. The plot of the film begins with a familiar trope and for a minute there, you wonder if Vijay would begin to follow her and do the other typical things that heroes do in films to woo a girl. Director Parasuram and writer John, though, subvert this stereotype by having Geetha and Govind meet coincidentally in a bus. The entire film's success depends solely on this scene.
Geetha's seat is next to Govind and it seems like the universe is conspiring to bring them together. Or so Govind thinks as he tries to strike a conversation with her. Geetha, however, doesn't believe in small talk and is not interested in entertaining a 'stranger's' unwanted attention. Govind is dejected and calls his friend, who is drowning himself in alcohol. He gives Govind a set of ideas which seems reasonable in the beginning but as more alcohol is consumed, they begin to sound creepy.
This friend advises Govind to simply plant a kiss on the girl, because from what he heard from Govind about Geetha's reactions, it looks like she 'wants' it. Govind is tempted and he even begins touching her feet. He is just about to kiss Geetha, when it strikes him that this is not right. At this point, you breathe a sigh of relief and yet you are disgusted that the man would even consider doing something like this.
Govind now decides to commemorate their first meeting with a selfie, but one speedbreaker changes the relationship between Geetha and Govind forever. Govind becomes a characterless rogue in the eyes of Geetha and she hates him enough to have him killed by her brother. She even has her brother ready and waiting at Kakinada bus stand, but Govind does something unexpected. From this point on, the surprises that the writer throws at the audience would have one burst out laughing at the hilarity of it all.
The situational comedy in this film is top notch, solely because the woman in this movie goes straight for the throat. She shows no mercy, and she takes "Ma'am you are just very tough," as a compliment when it is, technically, a complaint. She wouldn't mind throwing Govind to the wolves as long as it serves her purpose and throughout their relationship, she humiliates him verbally. The fact that Govind is misunderstood is a secret that the audience shares with the writer. Geetha is an outsider who has no idea, which makes the implausible situation not only persuasive but delightful.
Now, what about the men who would find Govind's situation pitiful and blame the girl for being too rigid about a 'silly' mistake? The writer had decided to draw a parallel for men to understand what women go through when they are forced to deal with unwanted attention in the form of Govind's student at the institution where he is a teahcer. It is not easy to understand a complex situation like this, unless one goes through the same thing.
By adding this parallel, the writer succeeds in gaining his female audience's respect and his male audience's appreciation. Otherwise, men wouldn't be whistling when Geetha slaps Govind or cheer her on. This is what makes the film more than your everyday variety of rom-com where the man meets woman, falls in love, fights family to marry her and live their happily ever after.
The credit for distorting a trope that is done to death in Indian cinema has to go to the director and writer. They managed to get the audience to empathise with both the male and the female leads. Vijay Deverakonda and Rashmika have taken this solid plot a notch higher with their delightful performances. Rashmika, especially, will have you rooting for her throughout the film. Vijay has managed to break away from his character in Arjun Reddy, his previous hit film as Vijay Govind. While his character is not as intense, Vijay Govind makes up for it with his sickening sweetness.
The songs composed by Gopi Sundar in the film are beautiful, memorable and make a mark with harmony. The music goes hand-in-hand with the emotions that the actors portray on screen. It ranges between anger, love, lust and comedy; and Gopi has managed to bring all of these emotions to life with his back ground score.
Geetha Govindam is not about universe conspiring to bring you close to your loved ones, it is about how coincidences can come to bite your behind.
Author tweets @Priyanka_S_MCC
Follow @htshowbiz for more
ott:10:ht-entertainment_listing-desktop
Close Story
Personalise your news feed. Follow trending topics