Sarkar plagiarism row: AR Murugadoss settles with writer Varun Rajendran but claims unfair treatment
Oct 30, 2018 05:19 PM IST
Sarkar plagiarism row: Director AR Murugadoss stresses that the story, screenplay, dialogue and direction of Vijay starrer is completely by him and accusations of plagiarism will not change the same.
The Sarkar plagiarism row seems to have ended with director AR Murugadoss agreeing to thank writer Varun Rajendran in the credits. This has ended speculation whether the Vijay-starrer will be releasing on Diwali as announced.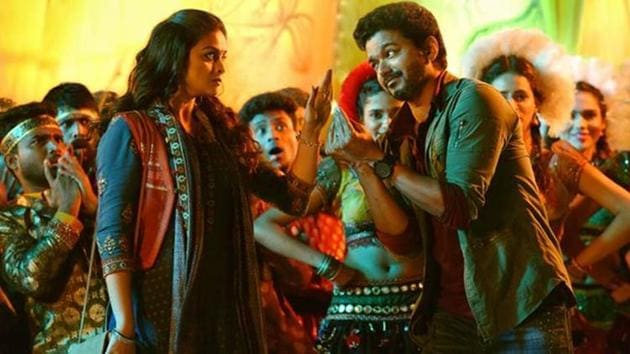 The film courted controversy after Varun accused Murugadoss of plagiarising his work in the film. The assistant director had filed a complaint with the South Indian Writers' Association where he had registered his script in 2007. Varun later filed a case with the Madras High Court and the hearing was scheduled to take place on October 30. However, both Murugadoss and Varun chose to settle it out of court.
Murugadoss, in a video statement, stressed on the fact that the only similarity between Sarkar and Sengol was the plotline of a rich business man realising that his vote has been cast by someone else. He said, "This is the only similarity between the two films and respectful Mr Bhagyaraj had suggested that we add a card before the film begins to share a message that would encourage the young filmmaker. I have agreed to do the same." He added, "Sarkar's story, writing, conception and direction is completely by AR Murugadoss and there is no change in that."
An official statement was released by the filmmakers and it read, "Varun Rajendran, who had sued A.R.Murugadoss, in the court as Sarkar's story was his. Today, the case came to trial. Mr.Bhagyaraj asked them that he would respect their views & that both AR Murugadoss and Varun Rajendran should come to a conclusion, by withdrawing the case. Therefore, in the credits for the story in Sarkar will only have AR.Murugadoss' name (sic)."
Vernacular magazine Vikatan had also reported that Varun was paid ₹30 lakh as settlement fee to withdraw the case. This has, however, not been confirmed officially.
Follow @htshowbiz for more