Hockey World Cup: Unpaid leave, quitting jobs, how Chile made it
Jan 18, 2023 11:24 PM IST
Their players either had to quit jobs or take a pay cut and students in the side had to take a break from studies for Chile to ensure they didn't miss out on making their Cup debut
Jose Maldonado was in tears, taking a while to compose himself. His childhood friend and teammate Ignacio Contardo had just scored Chile's first goal of the FIH Men's World Cup in Bhubaneswar. Though they lost 1-3 to New Zealand in Pool C, it was a momentous occasion for the Cup debutants for their country. Hockey is still very much an amateur game in the football-made country with only 500 regular players.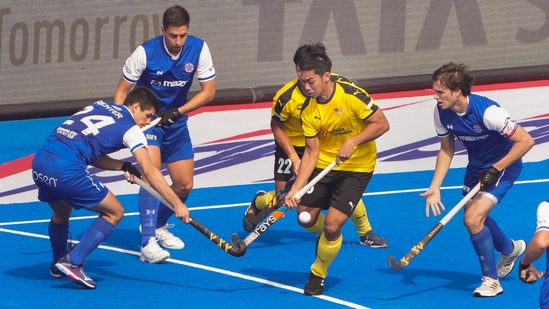 "Most of the guys play in (Chile) clubs while some play in Europe. In Chile, hockey is a very small sport. With our numbers, it is not easy to compete with other countries. But we are working hard and are improving every year," says Chile coach Jorge Dabanch.
Unlike the other debutant Wales who needed crowdfunding to get to this World Cup, the Chilean government funds the team for its tours and programmes, but doesn't pay the players a salary.
"The players do jobs to earn. In some cases, their parents take care of them. They have proper jobs – engineers, doctors, lawyers. And 70% of the players in this team are students. While some have taken leave, others are working fewer hours in these months because that is the only way out if we are to play at the World Cup," Dabanch said.
Also Read: India, England in race for the top spot
Some have taken unpaid leave, others quit their jobs when their employers refused them a long leave. "I used to work in a bank. When we qualified for the World Cup I said bye, bye to my boss. I had to prepare and play at the World Cup. I quit my job and went to Spain from June to December to train," said Ignacio Contardo.
"Most people in the team work or study. Many of us quit our jobs or took a break from studies to prepare for the World Cup," the player said.
After scoring in their first Cup match, at world No 23 the lowest ranked team in the tournament almost upset No 11 Malaysia. Chile led 1-0 and were 2-1 up at half-time in their second Pool C contest before Malaysia rallied to win 3-2.
"We've prepared well and have been playing well. We will try to play better and have more opportunities. We are getting penalty corners (PC) and scoring goals which has been a good start. We have 3-4 players who play in Europe. We also travelled to Buenos Aires to play some friendly matches against (neighbours and 2016 Rio Olympic champions) Argentina," said Dabanch. "For this tournament we've been together for 45 days, training all the time."
Chile play their final Pool C game against title contenders Netherlands on Thursday. Only a win can see them qualify for the next round. It may be asking them too much too soon, but the Latin American team will see the whole experience a big victory.
Get a colourful deal with 70% off on HT Premium annual plans
Enjoy Unlimited Digital Access with HT Premium
Topics