Six-time gold medallist Mary Kom pulls out of 2023 World Championships due to injury
Updated on Jan 08, 2023 09:21 AM IST
Mary Kom has stated that she won't be taking part in this year's boxing Women's World Championships due to an injury.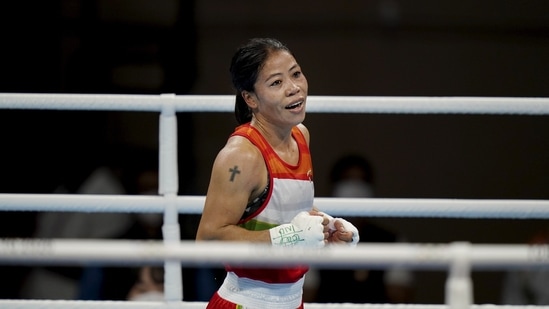 Six-time world champion Mary Kom has announced that she will be pulling out of this year's boxing Women's World Championship due to injury. The 40-year-old, who has won a total of eight medals in the Worlds, has not specified the nature of the injury but she said that she is looking to "recover soon".
The IBA World Championships will be held from May 1 to 14 this year in Tashkent, Uzbekistan. "I will not be able to participate in IBA Women's World Championship 2023 due to injury. I am trying to recover soon. I hope we can get more champions from this championship. I wish all the best to the participants," Mary is quoted as saying by ANI.
Mary had to miss out on the Birmingham Commonwealth Games last year after withdrawing from the selection trials with a knee injury. She had twisted her left knee in the first few minutes in the opening round of the 48kg semifinals. Mary had fallen on the canvas while trying to dodge a punch in the very first round of the bout.
Among the greatest Indian athletes of all time, Mary is the most successful boxer in the history of the World Championships. She is the only female boxer to have won a medal in each one of the first seven World Championships, and the only boxer (male or female) to win eight World Championship medals. Mary also became the first Indian female boxer to win a gold medal in the Asian Games in 2014 at Incheon, South Korea and is the first Indian female boxer to win gold at the 2018 Commonwealth Games. She became the first female Indian boxer and the second pugilist overall from her country to win an Olympic medal when she won bronze at the 2012 London Olympics.