'I don't like to see Francis out': UFC star reflects on Ngannou's exit, claims Jon Jones 'peaked too early'
Jan 19, 2023 06:22 PM IST
It was initially decided that Francis Ngannou would defend his heavyweight title against Jon Jones, making the fight nothing short of a blockbuster event.
The Ultimate Fighting Championship (UFC) saw plenty of fresh development this past week. UFC president Dana White while addressing a press conference confirmed that Francis Ngannou, who was the undisputed heavyweight champion, has been released by the company, and Jon Jones will fight Ciryl Gane for the vacant title at UFC 285, which will take place in Las Vegas in March.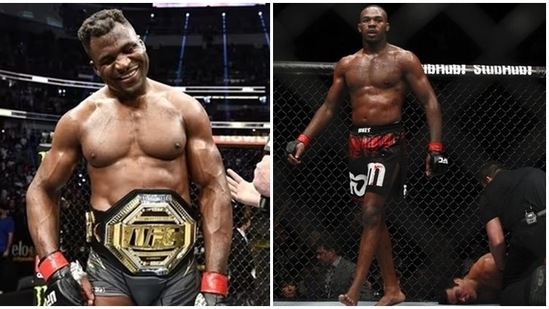 The news came as a shock to many, and one among them was UFC fighter Johnny Walker, who in an interview with hindustantimes.com wished that the two parties (UFC and Ngannou) could have reached a mutual agreement. "I don't like to see Francis out of UFC. I wish he could stay in the organization and I just wish that they could have made an arrangement that everybody would be happy. But he looked after himself. But I wish I could see the fight between Francis and Jones. But it's not gonna happen, so everybody's gonna be sad," Walker said on Wednesday.
It was initially decided that Ngannou would defend his heavyweight title against Jones, making the fight nothing short of a blockbuster event. Had the fight taken place as decided initially, Walker feels Ngannou would have walked out as the winner, justifying his pick by pointing at Jones' over three years hiatus from the Octagon.
"I think Francis would have more chance to win. Jones is really good but he was without competition for so long. When you don't fight for that long, you lose timing. Maybe you heal up your injuries and get stronger but timing is important.
"And of course he's (Ngannou) also coming back from injury, but he was been fighting more than than Jones," he added.
Walker also made a bold claim, stating Jones, who is considered as one of the best talent in the MMA circuit, peaked too early and expects Gane to win the heavyweight title.
"I also think Jones peaked too early. He was champion too early. He made a lot of big fights too early. Maybe his peak of his prime was done, but we never know. Let's see what's gonna happen when he comes back with serious gun.
"Being long time without competition can be a little trouble for him. But he's a really good fighter and he's the goat. He's the best I think but Gane has been more active than Jones and it makes a big difference when you are off for a long time. But again he is Jon Jones," said Walker.
Walker will be seen in action against Paul Craig in the Light Heavyweight category at UFC 283 on Sunday and win for either of the two will push them into the top 10.
Watch the LIVE coverage of UFC UFC 283 – Teixeira vs Hill on Sony Sports Ten 2 (English), Sony Sports Ten 3 (Hindi) & Sony Sports Ten 4 (Tamil & Telugu) channels at 8:30 am IST on 22nd January 2023.