Wimbledon 2021 Day 9: Federer knocked out by Hurkacz in straight; Djokovic cruises into semifinals
Jul 07, 2021 11:16 PM IST
Wimbledon Day 9: Here is a look at all the results of Wimbledon 2021 Day 9 matches, with Roger Federer, Novak Djokovic, and Denis Shapovalov in action in men's singles quarterfinals.
WELCOME TO DAY 9 OF WIMBLEDON 2021: It's the men's singles quarterfinals day at the grass courts of Wimbledon. Defending champion and top-seed Novak Djokovic is in action and will take on Marton Fucsovics of Hungary. The Serbian great has only dropped one set so far. Talking about greats, eight-time Wimbledon champion Roger Federer too will feature at the All England Club. He will face Hubert Hurkacz, who reached his first-ever Wimbledon quarterfinals at the expense of second-seed Daniil Medvedev. The two other two quarterfinals will also happen today, provided rain doesn't play spoilsport. We are down to the business end of this edition and it's only going to get intense. Make sure to keep up with all the updates from the big games.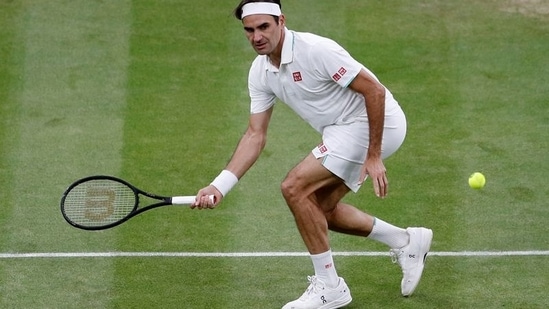 1) Order of play
CENTRE COURT
1-Novak Djokovic (Serbia) v Marton Fucsovics (Hungary)
6-Roger Federer (Switzerland) v 14-Hubert Hurkacz (Poland)
COURT ONE
25-Karen Khachanov (Russia) v 10-Denis Shapovalov (Canada)
7-Matteo Berrettini (Italy) v 16-Felix Auger-Aliassime (Canada)
2) And it begins: Djokovic vs Fucsovics begins!
Top seed Novak Djokovic takes on Marton Fucsovics at Centre Court. The Serb held his serve to 30 in the first game of the opening set to take a 1-0 lead.
Djokovic is storming through the first set. He broke Fucsovics in the second game and then held his serve in the third to a take 3-0 lead.
FIRST SET TO DJOKOVIC- After leading 5-0 and having multiple set points, Djokovic failed to close out the set early and had to go through a mini-comeback from Fucsovics before eventually sealing the first set 6-3 after 42 minutes.
SECOND SET TO DJOKOVIC- Djokovic is now one set away from entering the semifinals. Both the players traded games till 4-4 before Djokovic held to go ahead 5-4 and breaking Fucsovics to take the second set 6-4.
DJOKOVIC WINS AFTER TAKING THIRD SET- Djokovic wins 6-3,6-4,6-4
3) An even battle at Court 1 so far
Karen Khachanov, after conceding the first set 4-6, fought back brilliantly in the second to bag it 6-3 and level the scoreline against Denis Shapovalov.
Khachanov into the lead- The Russian fought hard to win the third set 7-5 against the Canadia.
Shapovalov forces decider- Canadian youngster Shapovalov served his opponent the breadstick in the fourth set, winning it 6-1, to force a deciding 5th.
SHAPOVALOV WINS- After winning the first set, he was down 1-2. But a stunning fourth set got him back on track and eventually, after battling hard for 3 hours and 25 minutes, he wins 6-4,3-6,5-7,6-1,6-4.
4) Bopanna, Sania back out
The India mixed doubles pair of Sania Mirza and Rohan Bopanna have resumed battle. Yesterday, after losing the first set 3-6, their match was suspended due to rain.
SCORES LEVEL-The India duo take the second set 6-3.
SANIA, BOPANNA KNOCKED OUT. The India mixed doubles duo, after undergoing an overnight halt, came back out on Wednesday and levelled the scoreline. However, they could not avoid defeat as they went down 3-6,6-3,9-11 to Jean-Julien Rojer and Andreja Klepac.
5) Roger Federer vs Hurkacz begins
And we are underway at Centre Court, where eight-time Wimbledon champion takes on Huber Hurkacz. The Polish holds his serve to take a 1-0 lead in the first set against Federer.
HURKACZ WINS FIRST SET! WOW! Hurkacz takes the first set 6-3 in under 28 minutes to draw first blood.
HURKACZ WINS SECOND SET! WOW! Hurkacz lead the match with two sets set 6-3, 7-6 (7-4).
IT'S OVER! FEDERER LOSES in straight sets as Hurkacz serves a bagel to win 6-3,7-6,6-0
READ| Roger Federer's bid for a ninth Wimbledon and 21st Grand Slam title were ended by Poland's Hubert Hurkacz as the Swiss Maestro was handed a shocking 3-6,6-7,0-6 defeat at Centre Court on Wednesday. (Match report)
6) Berrettini vs FAA on Court 1
The fourth and final quarterfinal begins. Matteo Berrettini takes on Felix-Auger Aliassime.
FIRST SET TO BERRETTINI- Italian and seventh-seed Berrettini won the first set 6-3.
SECOND SET TO FAA- Canadian youngster Felix strikes back to win the second set 7-5