Twitter hails 'GOAT' Roger Federer after Swiss maestro regains no. 1 ranking
Roger Federer became the oldest player ever at the age of 36 years and 195 days to attain the world number 1 spot, in the process surpassing Andre Agassi's record of 33 years and 133 days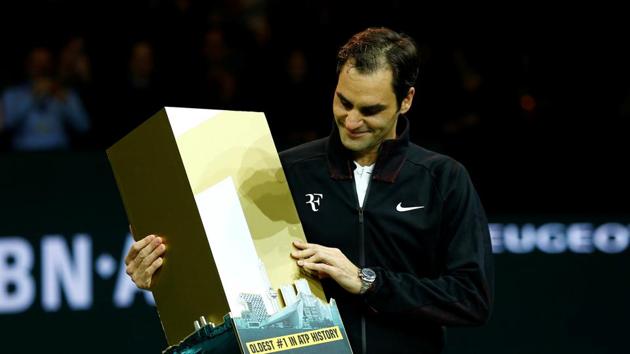 Published on Feb 17, 2018 03:30 PM IST
Tennis greats such as Andre Agassi and Rod Laver heaped praise on Roger Federer, who reclaimed the world No 1 spot after winning the Rotterdam Open on Friday.
Federer became the oldest player ever at the age of 36 years and 195 days to attain the top spot, in the process surpassing Agassi's record of 33 years and 133 days. Federer himself was delighted with his achievement.
"What an amazing run and a journey it has been for me throughout. So to clinch world No 1 again this following Monday in Rotterdam really means a lot to me. I think reaching No 1 is one of, if not the ultimate achievement in our sport," Federer was quoted as saying by express.co.uk.
Federer replaced Rafael Nadal as the world No 1 for the first time since October 2012, after his win over Robin Haase at the Rotterdam Open.
The Swiss legend took to Twitter to express his delight on the achievement, which to many did not even occur to be possible when he missed a lot of action sometime back. "It's been a long road, and sometimes windy, but feels surreal to be back at the top. I'm just happy to be healthy and playing tennis every day," Federer wrote.
Past and present stars of the sport also took to Twitter to congratulate Federer on his achievement.
Expressing further on his achievement, Federer said, ""Sometimes at the beginning you get there because you are playing so well and later you sometimes try to fight it back and you wrestle it back form someone else to be there. And when you're older you feel like you have to put double the work in."
"So this one maybe means the most to me throughout my career - getting to No 1 and enjoying right here at almost 37 years old. It is an absolute dream come true. I can't believe it," he added.
Close Story
Personalise your news feed. Follow trending topics