Among the women, Rohini Nilekani emerged as the most generous woman philanthropist with a donation of ₹120 crore. Leena Gandhi Tewari and Anu Aga donated ₹21 crore and ₹20 crore respectively.


Published on Oct 20, 2022 05:33 PM IST
The Wipro founder donated ₹9713 crore in FY 2021, as per the Edelgive Hurun India Philanthropy List 2021. This amounts to ₹27 crore a day.

Published on Oct 28, 2021 08:00 PM IST
Although a mega business tycoon, founder of Wipro and one of the world's richest men, Azim Premji is a man whose philanthropy just like his business endeavours, knows no bounds.


Published on Jul 24, 2021 04:17 PM IST
Azim Premji termed the Covid-19 pandemic as a once-a-century event which led the people and the institutions to take it as a challenge and fight it with all the resources.


Published on Jul 07, 2021 04:04 PM IST
"I do not think we should have a legal mandate for companies to do CSR. Philanthropy or charity or contribution to society must come from within, and it cannot be mandated from outside. But that's my personal view."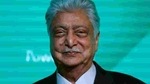 Published on Feb 20, 2021 05:01 PM IST
The chairman of Wipro shared this black and white image on his official Twitter account.


Published on Jan 14, 2021 08:40 PM IST