The true learning from the bypoll is this: The 'Ayaram Gayaram' phenomenon in Indian politics is an old malaise, and only voters can cure it

Published on Sep 12, 2023 09:24 AM IST
In the tumultuous terrain of a front-line Sikh majority state, Parkash Singh Badal was the quintessential moderate, a secular man, and a fighter for Punjab.

Updated on Apr 26, 2023 05:16 AM IST
Parkash Singh Badal, a five-time chief minister of Punjab and the last surviving member of a political generation that saw independence, has died at 95. He was a pragmatic practitioner of communal harmony, a liberal and secular man, and an avowed protagonist of and a fierce fighter for Punjab?s interests.

Updated on Apr 26, 2023 12:21 AM IST
The wide-ranging research work, which lays down a midterm blueprint, signals the continued emphasis of policymakers on agricultural reforms, but advocates greater involvement of states.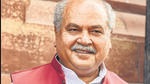 Updated on Mar 30, 2022 11:56 PM IST
However, the minister later clarified that the Centre has no plan to reintroduce farm laws adding that his statement during a programme was misquoted.


Published on Dec 27, 2021 12:14 PM IST