The wide-ranging research work, which lays down a midterm blueprint, signals the continued emphasis of policymakers on agricultural reforms, but advocates greater involvement of states.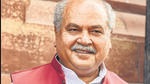 However, the minister later clarified that the Centre has no plan to reintroduce farm laws adding that his statement during a programme was misquoted.

"Prime Minister Narendra Modi had decided to withdraw the agricultural reform laws to keep the honour of the farmers," Tomar said.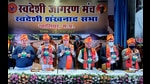 By
HT correspondent
, Hindustan Times, New Delhi
Narendra Singh Tomar made the remarks at an event in Nagpur on Friday during he said the government has moved a "step back" and "will move forward again" while speaking about the farm laws.

"We took a step back and we will move forward again because farmers are India's backbone. And if the backbone is strengthened, the country will definitely get stronger," Union agriculture minister Narendra Singh Tomar said.