Latest from galwan valley
Had Col Santosh Babu and his braves not retaliated to the PLA on patrolling point 14 in Galwan sector on June 15, 2020, the Chinese Army would have established an observation post monitoring Indian Army activities on DS-DBO road, a lifeline to highly sensitive DBO sector.
Arvind Kejriwal and KCR, along with Bhagwant Mann, paid tributes to the martyrs of the Galwan Valley clash against the Chinese troops and the farmers who died during the anti-farm law stir last year.

While no less than 15 rounds of meetings between Indian and Chinese senior military commanders have taken place to restore April 2020 status quo ante on the unresolved border, the PLA is still forwardly located in the KongKa La area or what is defined as patrolling point 15 on the military map.

China has said for the first time that soldiers of the People's Liberation Army (PLA) have disengaged in the Hot Spring area of Line of Actual Control (LAC) in eastern Ladakh.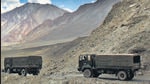 On Wednesday, Qi Fabao, a People's Liberation Army (PLA) regiment commander who was honoured after he suffered a head injury in the Galwan Valley clash in June 2020, was chosen by authorities to carry the Winter Olympics torch in a relay in Beijing.