Latest from singhu border
The roads have already been cleared for commuters at the Tikri border and traffic is plying on the stretch, police said.

Speaking to news agency PTI, a senior police officer said the concrete barriers and other obstacles have been cleared from the Singhu border. However, the road is not open for traffic yet.

Written by Shubhangi Gupta | Edited by Amit Chaturvedi
, New Delhi
The Singhu and Ghazipur border points of the national capital—two of the sites where the farmers had been protesting for the past 14 months—have picked up activity, as farmers get busy completing their preparations to leave for their homes in trucks and tractor trolleys.

Written by Joydeep Bose | Edited by Meenakshi Ray
, Hindustan Times, New Delhi
The three border points of Singhu, Tikri and Ghazipur were chock-a-block with tractors as people celebrated the one-year anniversary of the protest against the three farm laws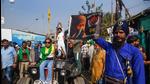 By
Jasjeev Gandhiok & Peeyush Khandelwal
, New Delhi
Thousands of farmers rallied to the borders of Delhi last November to protest against three laws brought by the centre that sought to deregulate farm trade. Prime Minister Narendra Modi on November 19 announced that the government will repeal the three farm laws