Latest from south america
Jaishankar is on a nine-day trip to Guyana, Panama, Colombia, and the Dominican Republic in a bid to explore bilateral engagement in new areas

Updated on Apr 21, 2023 01:48 PM IST
"Clock ticks as the FBI and FBI: Most Wanted teams join forces to hunt down the fugitive terrorists." , CBS synopsis

Published on Apr 05, 2023 07:30 PM IST
Five people have been arrested as part of a homicide investigation, including a migrant accused of starting the March 27 fire.

Published on Apr 04, 2023 03:05 AM IST
The new Covid-19 variant, which was first detected in August last year, accounts for around 81% of the cases reported since April in Peru, according to WHO. Moreover, the Lambda Covid-19 variant is now prevalent in as many as 29 countries, most notably in South America.


Published on Jun 18, 2021 10:05 AM IST
Many European Union nations are reeling from dramatic spikes in cases that have forced the reimposition of unpopular restrictions, including in Belgium where police used water cannon to disperse thousands who had gathered in violation of Covid-19 rules.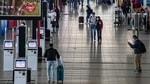 Published on Apr 02, 2021 04:42 PM IST
AFP | | Posted by Harshit Sabarwal