Delhi-NCR woke up to light rainfall on Saturday morning, bringing in much-needed respite from soaring temperatures.

Published on Mar 18, 2023 08:10 AM IST
The weather prediction came days after eight flights were diverted at the Mumbai airport on Friday due to heavy rainfall and low visibility.

Updated on Oct 16, 2022 09:02 PM IST
A very strong line of thunderstorms developed near Sarnia, close to the border with Port Huron, Michigan, late Saturday morning and tracked northeastward over Southern Ontario.


Published on May 23, 2022 04:55 AM IST
In its latest bulletin, the IMD said that rainfall will be triggered due to a wet spell over northwest and east India that will prevail till May 24 and a western disturbance which is likely to affect northwest India starting May 22.


Published on May 20, 2022 11:27 PM IST
Written by Sharangee Dutta | Edited by Sohini Goswami
, New Delhi
Isolated rainfall is likely over multiple regions in western and north-western India, ranging from Punjab, Haryana, Delhi to Rajasthan and Uttar Pradesh.


Published on Dec 26, 2021 07:37 AM IST
Written by Joydeep Bose | Edited by Meenakshi Ray
, Hindustan Times, New Delhi
Rainfall and thunderstorm is likely to occur on Friday over isolated areas in Delhi and the adjoining national capital region (NCR), including Noida and Faridabad, the weather agency alerted.


Published on Jul 02, 2021 07:38 AM IST
Delhi rains: Light to moderate intensity rainfall, accompanied by thunderstorms and lightning, has been predicted by the met department in isolated regions over Delhi, Ghaziabad, Noida, Aligarh, and adjoining regions in the next two hours.


Published on Jun 20, 2021 08:10 AM IST
The met department predicted light to moderate intensity rainfall over isolated areas in UP such as Rampur, Moradabad, Bijnor, and adjoining areas over the course of the next two hours.


Updated on Jun 19, 2021 08:21 AM IST
The Shimla MeT office forecast rain in plains and low and middle hills and rain and snowfall in high hills from Tuesday to Sunday.


Published on May 10, 2021 10:29 PM IST
Central India and the north Indian plains, that have been witnessing a rise in temperatures, are likely to get some relief in the next two to three days, the meteorological department said.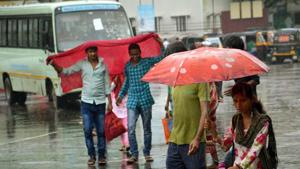 Updated on Jun 24, 2018 02:57 PM IST
On Friday, the weather might become a little warmer before rain and thunderstorm again brings respite during the weekend.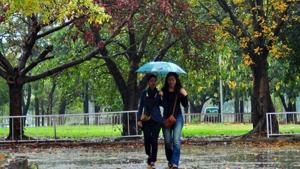 Updated on Jun 07, 2018 10:53 AM IST