Vedanta-Foxconn who were in advanced talks with Maharashtra have signed an MoU with the government of Gujarat to set up their semiconductor and display manufacturing unit in the state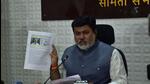 Updated on Sep 15, 2022 01:53 PM IST
Maharashtra CET Exam 2022 dates have been postponed. Candidates can check the revised schedule given below.


Published on May 03, 2022 10:10 AM IST
MHT CET Result 2021 to release today, October 27, 2021 on mhtcet2021.mahacet.org. The date and time of release of result has been announced by Uday Samant.


Updated on Oct 27, 2021 06:01 PM IST
MHT CET 2021 re-exam to be conducted for candidates who could not appear in the exams due to rains, announced Uday Samant.


Published on Sep 29, 2021 02:05 PM IST
The plan to shift journalism courses currently being taught at Ranade Institute here to the campus of the Savitribai Phule Pune University (SPPU) has been canceled after discussions with students' associations, said Maharashtra Minister for Higher and Technical Education Uday Samant on Saturday.


Published on Aug 14, 2021 08:05 PM IST
Maharashtra CET 2021 registration process for PG, professional courses to reopen on August 12, 2021 onwards on mahacet.org.


Published on Aug 11, 2021 08:34 AM IST
Admission process for non-professional courses will begin after Class12 results are out in Maharashtra, state Higher and Technical Education Minister Uday Samant said.


Published on Jun 27, 2021 06:37 PM IST
The CET or the common entrance test for professional courses after std 12th in Maharashtra could be held in the last week of July or first week of August, Higher & Technical Education Minister Uday Samant said here on Tuesday.


Published on Jun 16, 2021 01:50 PM IST
Examinations for undergraduate students of 13 state-run universities in Maharashtra will be held online, state minister Uday Samant said on Thursday.

Published on Apr 22, 2021 06:11 PM IST
Savitribai Phule Pune University given nod to start its sub-centre in Qatar: Uday Samant

Published on Feb 19, 2021 12:36 PM IST
Speaking to reporters in Nanded, Samant said the implementation of this process would be decided at the university level.

Published on Feb 14, 2021 11:32 AM IST
'Matoshree' happens to be the name of Chief Minister Uddhav Thackeray's residence in suburban Bandra here.

Published on Feb 06, 2021 09:27 AM IST
Samant, who is the state minister for higher and technical education, made the statement during a meeting with college principals and other stakeholders.

Published on Jan 10, 2021 08:47 AM IST