Anand Mahindra buys fruits using India's digital currency, later tweets video
Jan 26, 2023 07:38 PM IST
Anand Mahindra recently tweeted a video that captures him buying fruits from a local vendor using India's digital currency, e-rupee.
Industrialist Anand Mahindra recently learnt about India's digital currency, e-rupee, at the RBI's board meeting. Following this, he visited a local fruit vendor to buy some fruits and settled the payment with digital currency. Anand Mahindra has now taken to Twitter to share a video documenting his purchase with a local fruit vendor using e-rupee. According to Mahindra, fruit vendor Bachche Lal Sahani is one of the first merchants in India to accept such payments.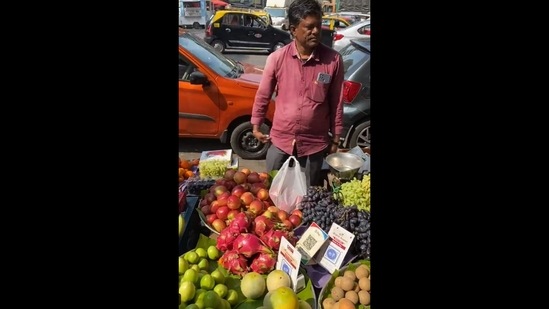 (Also Read: Flight attendant holds nervous passenger's hand, sits on floor to comfort her)
"At the Reserve Bank's board meeting today, I learned about the @RBI digital currency-the e-rupee. Right after the meeting I visited Bachche Lal Sahani, a nearby fruit vendor who is one of the first merchants to accept it. #DigitalIndia in action! (Got great pomegranates as well!)," wrote Anand Mahindra while sharing a video.
(Also Read: Israeli diplomat plays India's National Anthem on piano on 74th Republic Day. Watch)
The video that is slowly gaining traction opens to show Anand Mahindra purchasing pomegranates from Sahani. As the video progresses, he scans a QR code to pay him with digital rupees. After successful payment, he shows his phone's screen to the vendor, who nods in affirmation. Towards the end, a loud audio confirmation by the soundbox is also heard. It announces, "Digital rupees of 200 successfully received."
For those unaware, the e-rupee is the digital version of Indian currency and is in its pilot phase in Mumbai, Delhi, Bengaluru and Bhubaneswar.
Watch the video right here:
Since being shared a day ago, the tweet has accumulated over 1.4 million views, and the numbers are still going up. Many also flocked to the comments section to share their thoughts.
(Also Read: Woman orders sanitary pads from Swiggy Instamart, receives free cookies)
Here's how people reacted to the video:
"Digital revolution is taking our economy further," wrote politician Pratap Arunbhau Adsad with a folded hands emoticon. Fact Protocol co-founder Mohith Agadi reacted to it and wrote, "Indian #CBDC." "Wow, a positive step towards digital currency," posted an individual. "It's simply amazing to see the transformation digital and payments tech are bringing," commented another. "Just awesome," shared a third. "This is really cool…," expressed a fourth. Many in the comments section also pointed out the ban on plastic bags.