Game of Thrones: Kit Harington says he was 'pissed' Arya Stark was one to kill Night King, not Jon Snow
Updated on Apr 30, 2019 01:57 PM IST
Game of Thrones: Kit Harington says he had expected that he would be the one to bring the end to Night King's terror but he was proven wrong in the latest episode.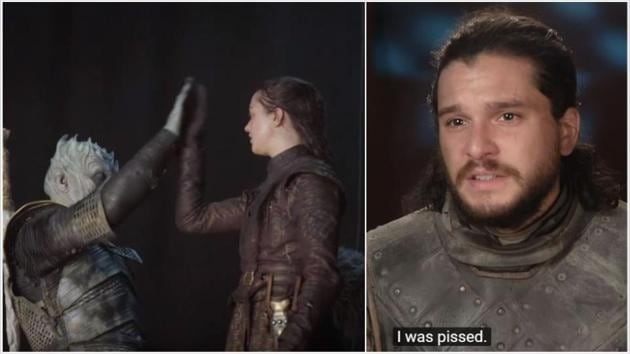 Even the biggest fans of Game of Thrones could not have predicted the climax of the show's latest episode. After giving the living the toughest fight of their lives, the Night King was just about to chop Bran Stark's head off when an unexpected hero came flying and stabbed him with a Valyrian steel dagger. Arya Stark emerged as the true hero of the episode and the one to save mankind. Fans all around the world were surprised that she was the chosen one and not Jon Snow, as had been the buildup for so many years.
In a new 40-minute behind-the-scene footage, Kit Harington, who plays Jon Snow on the show, said he was actually 'pissed' about not getting the opportunity to kill the Night King. Maisie Williams, who plays Arya Stark, said, "Just when you think it is all over, just when you think Jon Snow is going to be the hero, again, we realise that Arya appears through the mist."
Also read: Wedding of Priyanka Chopra's brother Siddharth postponed, actor flies back home. See pics
Dave Hill, the executive story editor said, "I think Maisie thought it was super cool. She's like 'yeah, I'm gonna kill him.' Um...Kit was really fine with it." But Kit was not fine with it. "I was pissed. I was pissed that it wasn't me killing the Night King. I would've given you...I'd have bet you thousands. Before I read the finals, I was like yeah, it's definitely me. And then they lead you on, Jon's chasing the Night King," Kit said in the video.
Showrunner David Benioff said, "Jon Snow has always been the hero, the one who's been the saviour, but it just didn't seem right to us for this moment." He added that they had known it for three years that Arya would be the one to slay the Night King.
As for how Jon reacts to Arya killing Night King, we'll know in the show's fourth episode which premieres on Monday. The show has three more episodes to go and all of them are more than an hour long.
Follow @htshowbiz for more