Koffee With Karan: Ajay Devgn teases Kajol about her age, wonders if he and Karan Johar can be friends
Koffee With Karan: Ajay Devgn and Kajol will reveal several secrets from their personal life as they share the couch on Karan Johar's chat show.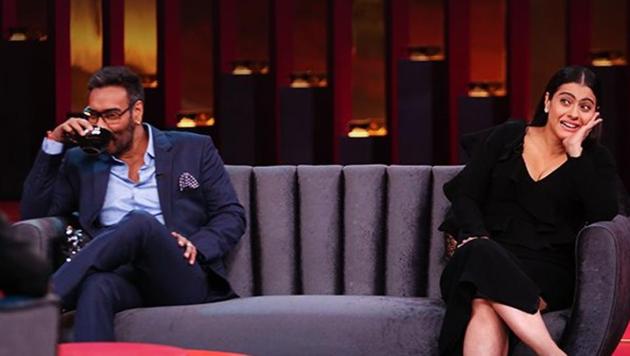 Updated on Dec 02, 2018 05:40 PM IST
Karan Johar is all set to host one of his closest friends Kajol and her husband Ajay Devgn on his chat show, Koffee With Karan. A lot of fireworks are expected as Karan would be conversing in such detail with the couple with whom he had an ugly fallout in 2016 as their films, Jab Tak Hai Jaan and Shivaay, clashed at the box offixe. A tweet by Kamaal R Khan had created a misunderstanding between Ajay and Karan as Kajol chose to side with her husband.
As the trio sits together again to have a candid chat, quite a few revelations are expected this weekend on the show.
Ajay teased Kajol for her social media habits
Ajay teased Kajol for putting a lot of effort in choosing the right pictures to upload on social media. He said, "The problem is not clicking the picture. Problem is, three hours they are only correcting the picture so that they can post it. She's never done this in her life, budhaape (old age) me aake I don't know why." To which she quickly replied, "Tumhara budhaapa hoga, mera toh nahi hai! (you must be old, I am not)."
When Kajol gave Ajay a death stare
Karan asked Ajay during the rapid fire round, "One lie that every actor from the film fraternity tells?" To which, he replied, "I love my wife!" Kajol gave him a death stare and Ajay had to clarify that he was talking about other stars.
Ajay revealed Kajol is addicted to online shopping
According to a report in Mumbai Mirror, Ajay revealed how Kajol is a "low-maintenance wife". Both Ajay and Karan accept that Kajol was rather thrifty when it came to spending money. Ajay said she was addicted to online shopping and kept picking up stuff worth ₹500 to ₹1200 almost on a daily basis. He said, "And then she's sitting on it exclaiming 'See how much this is for, only ₹600'."
Ajay forgot his wedding date
In the promo, when Karan asked Ajay his wedding date, he is unable to recollect it even after two attempts. Kajol finally tells him in a heartbroken tone "its February 24, 1999." When asked which actor from the current generation Ajay would pair up opposite Kajol, he asked, "As a son?" Kajol gives him an intense look again said, "Ghar jaana hai. (we have to go home as well)"
Kajol is an old soul
Ajay narrated how his mother felt more secure with Kajol than she does with him. He revealed that when his mother is feeling under the weather, she needs Kajol more than she needs Ajay now. He talked about how Kajol enjoys spending time with aunties and mothers, reminiscing an incident where Kajol attended his mother's birthday party and was truly in her element in a room where the average age group was between 75 to 80.
Will Ajay and Karan become good friends?
Two years after their clash made headlines, when Karan asks Ajay on Koffee With Karan that if he can make an effort for them to become friends, Kajol promptly replied, "I don't want you to become his (Ajay's) friend, you are my friend!" Will they eventually become good friends at the end of the episode?
Catch all the fun on Saturday at 9pm on Star World.
Follow @htshowbiz for more
Close Story
Personalise your news feed. Follow trending topics