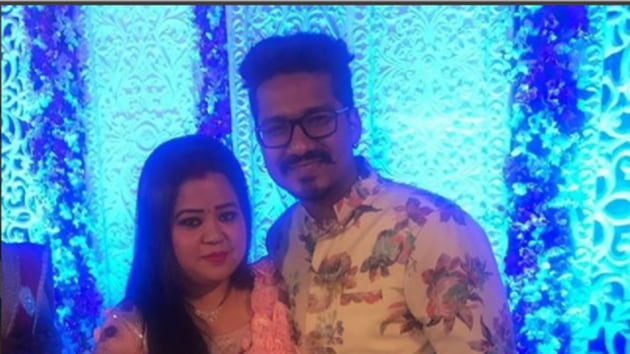 Valentine's Day: Bharti Singh and Harsh Limbachiyaa spill the beans on their love story and married life
Newly-weds Bharti Singh and Harsh Limbachiyaa get candid and answer some quirky questions about their love story.
Hindustan Times | By Monika Rawal Kukreja
, New Delhi
UPDATED ON FEB 13, 2018 06:12 PM IST
Comedienne Bharti Singh and writer Harsh Limbachiyaa's love story is straight out of a fairytale. They met seven years ago on the sets of comedy show TV show Comedy Circus — where Bharti was a contestant and Harsh was a script writer — and though it wasn't love at first sight, there was an instant click between the two. More than a year later, a proposal followed and today, the two are happily married. For Valentine's Day, the two, who will be in Sri Lanka for a show, get candid and answer some quirky questions about their love story.
How has the little more than two-month-old married life been so far?
Bharti: We don't feel like a couple. Same maara maari chalti rehti hai!
Harsh: We were living as a couple for seven years. It's just that now we have an official seal. Thankfully, the good morning and night messages are over!
When you tied the knot on December 3, 2017, what was the first thing you said to each other?
Bharti: Trust rakhna aur mujhe khush rakhna. Don't scold me in front of others.
Harsh: I was so happy that I asked her, 'Bharti, hamari shaadi ho gayi?'
What's your idea of romance?
Bharti: I'm too practical. For me, going out, travelling together, isn't love. I love staying at home with Harsh.
Harsh: I don't believe in surprising someone in order to show love. If I've to gift Bharti, I tell her beforehand that I would buy this for you.
What was the first gift you ever received from each other?
Bharti: Iska bas chale toh mujhe roz gifts de. I remember he got me a bag worth ₹2 lakh, which I wouldn't have bought because main khud kanjoos hoon.
Harsh: It was on my first birthday after we started dating. She got me a gold Om pendant. I remember it because I lost it after sometime.
The best Valentine's Day memory?
Bharti: He doesn't do those typical guy things. But last year on V-Day, we went on a drive and the car's rear seat was full of flowers. But, later, he confessed that he didn't plan to buy them. He had seen a kid selling flowers at a
signal and he bought all of them.
Harsh: We've never done anything special for V-Day. But last year, since it was the last before wedding, for the first time, we planned a proper date. We went for shopping, had lunch, enjoyed hookah, drinks and then dinner.
Nicknames you've given each other...
Bharti: I call him Harshhhhhh…
Harsh: I call her Bhallu, Panda, Piku and Cheekie
If a Bollywood movie were to be made on your love story, what would it be called?
Bharti: Pyaar wali 2 States because he's a Gujarati and I am a Punjabi
Harsh: Dum Laga Ke Haisha because I am also trying to put on some weight now
And if you were to recreate a romantic Bollywood couple on screen, who would it be?
Bharti: Ranveer-Deepika in Ram-Leela. Waise toh main kisi angle se Deepika nahi lagti hoon but dil se toh hoon.
Harsh: Varun and Alia in Humpty Sharma Ki Dulhaniya because I like their funny chemistry.
What do you fight about?
Bharti: Anything and everything! He wakes up late and then his phone keeps ringing and at night, he is busy watching YouTube videos.
Harsh: I am a bit unorganised, so that's the main reason for most of our fights. If I have a meeting at 2pm, I would leave home at 1.30pm.
And who makes up after a fight?
Bharti: Mostly he comes for a patch up. Reh nahi sakta na apne bhalu ke bina (laughs)
Harsh: Main hi manata hu. I've learnt that no matter who is at fault, the man should always say sorry first because even if you talk, in the end, you'll be made to feel that you're wrong, so pehle hi sorry bol do.
What's that one thing you find irritating about each other?
Bharti: He doesn't keep his stuff in place and would throw things anywhere. He has lost some 150 headphones and still uses mine.
Harsh: She gets emotional at wrong places and would randomly start crying. You won't believe, once we were watching a TV show and there were penguins, and she started crying saying, 'Why do they have such feet? How do they walk?'
And one thing you adore about each other?
Bharti: He loves me too much. He doesn't show that too often but keeps teasing me.Especially when I'm unwell, he looks after me.
Harsh: Yeh bahut genuine hai. She doesn't differentiate between people. How she jokes with the producer of the show is exactly the same how she is with the spot boy.
Interact with Monika Rawal Kukreja at Twitter/@monikarawal

Close