39 found dead in lorry container near London, 25-year-old man arrested: Cops
The Essex police said a 25-year-old-man from Northern Ireland has been arrested on suspicion of murder. The 39 unidentified people were pronounced dead at the scene in Grays.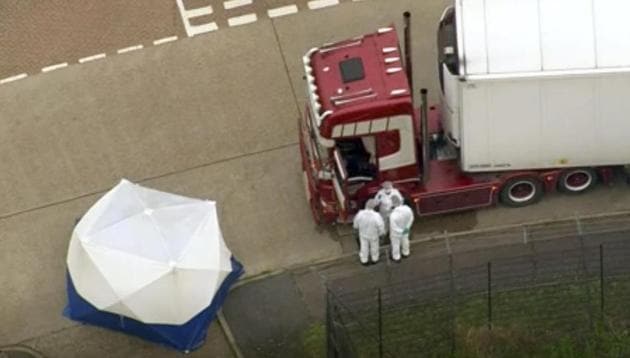 Updated on Oct 23, 2019 07:44 PM IST
The British police have launched a murder investigation after 39 people – 38 adults and one teenager – were found dead in a lorry container early on Wednesday morning in an incident likely to be related to human smuggling.
The Essex police said they were called by colleagues from the ambulance service shortly before 1.40 am following the discovery of a lorry container with people inside at Waterglade Industrial Park, Eastern Avenue, Grays, about 35 km east of London.
The 39 unidentified people were pronounced dead at the scene in Grays. A 25-year-old-man from Northern Ireland has been arrested on suspicion of murder, the police said.
Chief superintendent Andrew Mariner said: "This is a tragic incident where a large number of people have lost their lives. Our enquiries are ongoing to establish what has happened. We are in the process of identifying the victims, however I anticipate that this could be a lengthy process".
"We believe the lorry is from Bulgaria and entered the country at Holyhead on Saturday 19 October…We have arrested the lorry driver in connection with the incident who remains in police custody as our enquiries continue".
Deputy chief constable Pippa Mills added tat identifying the victims remains the number one priority, and appealed for information about the route the lorry may have taken, or anyone who had seen the vehicle or knew about its journey, to get in touch.
Responding to the news, Prime Minister Boris Johnson said: "I'm appalled by this tragic incident in Essex. I am receiving regular updates from the Home Office & will work closely with Essex Police as we establish exactly what has happened. My thoughts are with all those who lost their lives & their loved ones".
Home secretary Priti Patel said she is shocked and saddened by the incident, while Jackie Doyle-Price, Conservative MP from Thurrock, added: "Sickening news of 39 people found dead in a container in Grays. People trafficking is a vile and dangerous business".
There have been several instances of people being smuggled into the UK in container lorries, in which some suffocate to death. In August 2014, a group of 35 Afghan Sikhs was found in a shipping container in Essex. They later claimed asylum in the UK.
James Brokenshire, the then immigration and security minister, said the incident was a "reminder of the often devastating human consequences of illegal migration. We know that criminal gangs are involved in what amounts to a brutal trade in human lives".
In 2000, 58 Chinese men and women were found suffocated in a lorry that had arrived in Dover from Calais. Next year, eight illegal migrants died in a shipping container which had been unloaded at an industrial estate in Wexford in Ireland after a crossing from Zeebrugge.
Satbir Singh of the Joint Council for the Welfare of Immigrants said: "Nobody should be in any doubt that the ultimate responsibility for these deaths lies with government policy which has deliberately closed down safe and legal routes into Britain".
"We need more than empty expressions of shock and sadness from Priti Patel and Boris Johnson, we need a commitment to opening safe and legal routes to the UK, and quick decisions on applications from people seeking to make a better life here".
Close Story