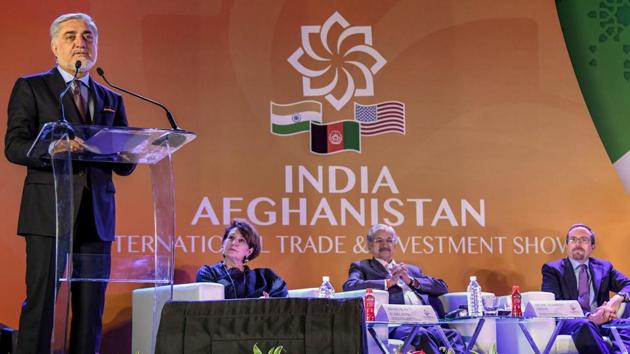 Afghanistan disappointed by scale of China-India infrastructure project in country
Hindustan Times, Beijing | By Sutirtho Patranobis
UPDATED ON SEP 12, 2018 09:40 PM IST
India has conceded to China's request to jointly implement a limited "capacity building" project in Afghanistan instead of a large-scale venture in the infrastructure or energy sectors, leaving Kabul "underwhelmed", people familiar with the latest developments have said.
Beijing seemingly convinced New Delhi to opt for a smaller project in Afghanistan, possibly to assuage the misgivings of its close ally Islamabad.
Three months after the project was announced – preceded by several months of trilateral discussions – diplomats here are tight-lipped about how much progress has been made in its implementation, or how much Pakistan was a factor in scaling down the venture.
The decision has left Kabul dismayed, as the Ashraf Ghani government -- part of long-drawn discussions on the venture -- had expected a bigger project, one that could directly benefit the citizens of the war-torn country, people familiar with the discussions said.
Kabul was disappointed given New Delhi's long history of being a "more effective donor" which addressed Afghanistan's critical needs, they said.
Given that China is the world's second largest economy and Afghanistan's strategic partner since 2012, it was expected that Beijing would be more ambitious, they added.
India and China's first third-country project was announced after the informal summit between Prime Minister Narendra Modi and President Xi Jinping in the central Chinese city of Wuhan in April. Xi brought up the prospect of a trilateral project in Afghanistan and Modi agreed.
Later, India's foreign secretary Vijay Gokhale shared an outline. The two countries will undertake a capacity-building project in Afghanistan, Gokhale said after the two leaders met again on the sidelines of the Shanghai Cooperation Organisation (SCO) Summit in the coastal city of Qingdao in June.
The announcements were made at Wuhan and Qingdao, but the groundwork was done earlier. Discussions between New Delhi, Beijing and Kabul on the project had begun in 2016.
Several rounds of talks were held between Chinese, Indian and Afghan diplomats to frame a strategy and to analyse the feasibility of such a project. Equally crucial was the diplomatic message it would send out internationally – Pakistan was bound to be annoyed.
India initially agreed to implement a joint project in agriculture, infrastructure or energy and New Delhi told Kabul as much. The expectation was China would agree as well.
Days before the Wuhan summit, China floated the idea of a capacity building project. Such a venture will be valuable but a trilateral project in Afghanistan had – and still has - the potential and capacity to be more effective and useful, the people said.
It is now expected that the modest start will develop into something more substantial in later stages, they added.
However, the expectation for a big project was high, for one, as Kabul is already involved in other trilateral capacity building projects. Afghanistan and China are involved in projects with the US, the UK and Germany, involving the training of diplomats and mining experts and doing business.
China's foreign ministry had a generic response when asked about the project and whether Beijing convinced India to scale it down. "During the informal summit in Wuhan, President Xi Jinping and PM Narendra Modi agreed on strengthening policy coordination in surrounding regions, and discussed about developing 'Sino-India-Plus' cooperation," said an email response from the ministry.
"Leaders of both countries also agreed on keeping in contact and coordinating over the issue of Afghanistan, in order to jointly promote peace, stability and development in Afghanistan. The two sides are maintaining communication on the implementation of the consensus made by two leaders," it added.
There is a rationale behind India and China opting for a low-profile project in Afghanistan, said Barnett Rubin from New York University. "It is a first step. Both are cautious. We should encourage bigger things. They are talking about them but not yet ready to move," Rubin said, adding that "expectations must be realistic".
For a disappointed Afghanistan, that's the reality.
Close