'Bikini killer' Charles Sobhraj has successful heart surgery
Updated on Jun 12, 2017 06:09 PM IST
"Yes! He has a heart and I just fixed valves inside. Recovering normally," said doctor Ramesh Koirala, who performed the operation.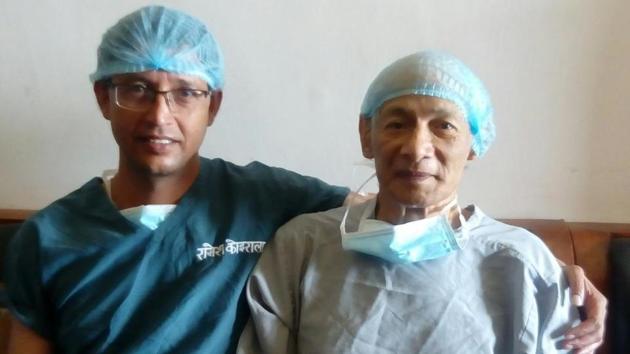 Hindustan Times, Kathmandu |
, Kathmandu
Anil Giri
Serial killer Charles Sobhraj underwent a successful open heart surgery at a Kathmandu hospital on Monday and is recovering, his doctor said.
A team of doctors led by Raamesh Koirala conducted the surgery on the criminal implicated in the killing of more than 20 people in Nepal, India and other Asian countries, including the poisoning of backpackers.
"Yes! He has a heart and I just fixed valves inside. Recovering normally," Koirala posted on Twitter. He shared a photo of himself with Sobhraj minutes before the 73-year-old was taken into the operation theatre at Shahid Ganga Lal Heart Hospital.
Nihita Biswas, a young Nepalese woman to whom Sobhraj became engaged in 2008, donated blood before the surgery. She visited the hospital with her mother, Sakuntala Thapa, who is a lawyer and had fought Sobraj's case in Nepal's courts.
Biswas has said in the past that she fell in love with Sobhraj, who is 44 years older than her, when she visited him in prison after learning that he was looking for an interpreter for his visiting French lawyer.
She had not been seen visiting Sobhraj for some time, leading to questions about her relationship with the criminal who was dubbed the "Bikini Killer" by the tabloids in the 1970s. She appeared in the hospital on Sunday and donated blood for Sobhraj.
The blood group of Sobhraj and Biswas is O-negative, a hospital source said. Ahead of the surgery, the hospital was told to arrange some blood in case it was needed. "She came and donated one pint of blood for him," the source said.
Sobhraj, who has been serving time in the central jail of Kathmandu for the past 12 years, was diagnosed with a leak in a valve. The French national recently fainted in jail and was rushed to hospital, where he was diagnosed with the mitral valve leak.
The mitral valve is a dual-flap that controls the flow of blood in the left section of the heart. If it fails to function adequately, patients exhibit symptoms such as palpitation, exertion and shortness of breath.
After he suffered a mild heart attack in May, authorities suggested he should undergo heart surgery to fix the valve.
Sobhraj has been in prison since the Supreme Court sentenced him to life for murdering an American tourist, Connie Joe Bronzich, in Nepal in 1975. He had been linked to the multiple killings of backpackers.
He earlier spent 21 years in prison in India and escaped from Tihar Jail in 1986 after drugging security guards, serving them sweets in the name of his own birthday.
According to a biography, he is believed to have killed 20 people up to the late 1970s, including in Nepal and India.
Personalise your news feed. Follow trending topics