China distorting facts about Xinjiang camps, says exiled Uyghur group
Hindustan Times, Beijing |
Sutirtho Patranobis
Oct 17, 2018 06:10 PM IST
China says it is fighting terrorism in Xinjiang but in accordance with UN norms but Uyghur rights groups allege they were forcing the community to give up their religious and cultural identity and demand Beijing must allow foreign media to visit the camps.
Amid a staunch defence by Beijing of its policy to put Muslim Uyghurs in training camps, rights groups including one of exiled Uyghurs have accused the Chinese government of "distorting facts" and forcing the community to give up its religious and cultural identity.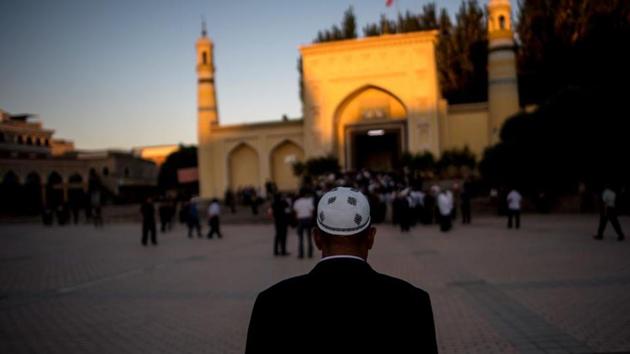 Top Xinjiang official Shohrat Zakir on Tuesday told state media that Beijing was fighting "terrorism and extremism" in its own way but in accordance with United Nations resolutions.
Stay tuned with breaking news on HT Channel on Facebook.
Join Now
"Today's Xinjiang is not only beautiful but also safe and stable. No matter where they are or at what time of the day, people are no longer afraid of going out, shopping, dining and travelling," Zakir said, referring to the violence between the Uyghurs and Han Chinese that has rocked the region in recent years.
Dilxat Raxit, spokesperson of the World Uyghur Congress, however dismissed the official stand.
"Xinjiang officials of the Communist Party of China recently announced that 'vocational skills education and training' is to eliminate terrorism. It is completely distorting the facts and fabricating lies," Raxit told HT over email.
"After being exposed, they (the government's attempts) were renamed as skills training. Millions of Uyghurs were forced to give up their cultural beliefs, abandon the language used by their ancestors, and asked them to switch to Han Chinese names and diets. Is this the technical training they claim to provide a means for Uyghurs to make a living?" he said.
Raxit demanded the Chinese government should allow foreign media to visit the camps and conduct "unimpeded interviews".
Human Right Watch's Sophie Richardson demanded that China release the children of inmates from state institutions.
"One million Turkic Muslims are credibly estimated to be detained in unlawful political education camps in Xinjiang, along with an unknown number arbitrarily held in detention centers and prisons, under China's abusive 'Strike Hard Campaign against Violent Terrorism'," Richardson said in a statement.
Chinese state media said the criticism of the camps was "western geopolitics".
"Those Western forces don't care about the welfare of the Xinjiang people. They would rather sacrifice stability in Xinjiang and the lives of hundreds of thousands for a single geopolitical victory over China," the Global Times tabloid said in an editorial.
"Even Chinese authorities find Xinjiang's governance a thorny issue, so how can Westerners have the sincerity and patience to rack their brains to offer suggestions? They are just messing up the whole thing and creating a narrative against China," it added.