China eases anti-Covid rules amid massive stir, blames ulterior motives: Top 5
Written by Harshit Sabarwal | Edited by Swati Bhasin
, New Delhi
Nov 28, 2022 02:01 PM IST
China's foreign ministry said on Monday that the government's fight against Covid will be successful.
Amid widespread anger and protests among people in China against the Zero-Covid policy to contain the pandemic, authorities on Monday eased anti-virus rules in scattered areas. However, officials continue to stand by the Zero-Covid policy as they refused to make any comment on the mounting protests and the criticism of President Xi Jinping, a report by news agency Associated Press said. According to the National Health Commission, the country registered 39,452 new Covid infections on Monday, including 36,304 local asymptomatic cases. On Sunday, the daily cases in the country stood at 40,347. The wave of protests is one of the biggest since Xi Jinping took charge for his third term last month.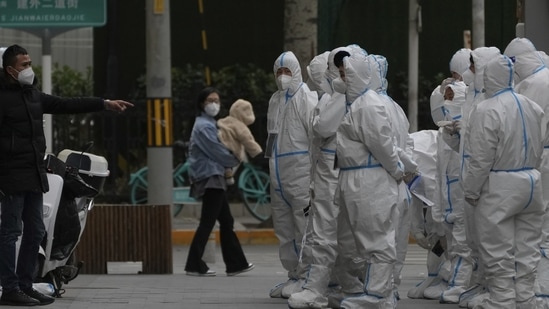 Here are the latest points on the Covid situation in China:
1) China's foreign ministry said on Monday that the government's fight against Covid will be successful. "We believe that with the leadership of the Chinese Communist Party and the support of the Chinese people, our fight against Covid-19 will be successful," foreign ministry spokesman Zhao Lijian told reporters.
Also Read| Covid protests rub sheen off President Xi third term ascendency
2) The country has also blamed "forces with ulterior motives" for linking a deadly fire in the western Xinjiang region to strict Covid measures. This was one of the triggers that intensified the stir. Online posts circulating on both Chinese and overseas social media platforms have claimed that lengthy Covid lockdowns in Urumqi hampered rescue attempts after the blaze on Thursday night, news agency AFP reported. In response to a question at a briefing, foreign ministry spokesperson Zhao Lijian said: "On social media there are forces with ulterior motives that relate this fire with the local response to Covid-19."
3) On Monday, authorities in Shanghai put up barriers around a city centre area where hundreds of people protested against the Covid curbs. According to a report by Reuters, there were no signs of fresh protests in Shanghai or Beijing.
4) The Chinese government said on Monday that the BBC reporter, who was assaulted and detained while covering a protest in Shanghai, had not identified himself as a journalist. A row has erupted over the treatment of the journalist with the BBC saying that it had not received an apology from China. "Based on what we learned from relevant Shanghai authorities, he did not identify himself as a journalist and didn't voluntarily present his press credentials," foreign ministry spokesperson Zhao Lijian said and told international media to follow Chinese laws and regulations while in the country. The United Kingdom government has also raised objections against the treatment.
5) The Goldman Sachs Group has said that China may exit its Covid Zero policy earlier than previously expected. "The central government may soon need to choose between more lockdowns and more Covid outbreaks," Hui Shan, Goldman's chief China economist wrote in a note late Sunday.
(With agency inputs)