US recovering Chinese spy balloon, Republicans target Joe Biden: Updates
Feb 06, 2023 06:01 AM IST
Chinese Spy Balloon: The balloon was shot down by a military jet over the Atlantic Ocean with a missile.
The United States is attempting to recover a suspected Chinese spy balloon that was shot down off the coast of South Carolina, Pentagon said.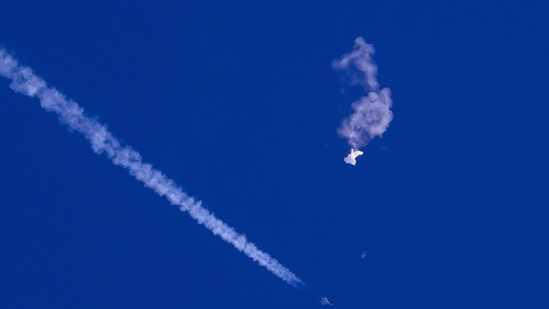 Read more: Chinese spy balloon intruded into Canadian territory: Ottawa
"Our US Navy component is currently conducting recovery operations, with the US Coast Guard assisting in securing the area and maintaining public safety," the statement read although China has repeatedly said that the airship was being used for meteorological and other scientific purposes.
Here are top updates on this story:
Republican lawmakers have been accusing China of surveilling sensitive US military sites with the spy balloon accusing the Joe Biden administration of giving a chance to Beijing by not downing the balloon.
The balloon was shot down by a military jet over the Atlantic Ocean with a missile.
America's top diplomat cancelled a trip to Beijing following the spotting of the spy balloon.
China's defence ministry said after the balloon fell into the waters that it "reserves the right to take necessary measures to deal with similar situations".
Meanwhile, US defence and military officials said the balloon entered the US air defence zone on January 28 and moved largely over land across Alaska and then into Canadian airspace on Monday.
It then crossed back into US territory over Idaho on Tuesday, when Joe Biden was first briefed about the citing.
Earlier, officials had said that bringing down the balloon over land from an altitude of 60,000 feet would pose an undue risk to people on the ground.
A F-22 fighter jet fired a missile at the balloon puncturing it while it was near Myrtle Beach, South Carolina.
The debris landed in 47 feet of water, officials said.
Recovery efforts would be completed in a short time, not weeks, they added.