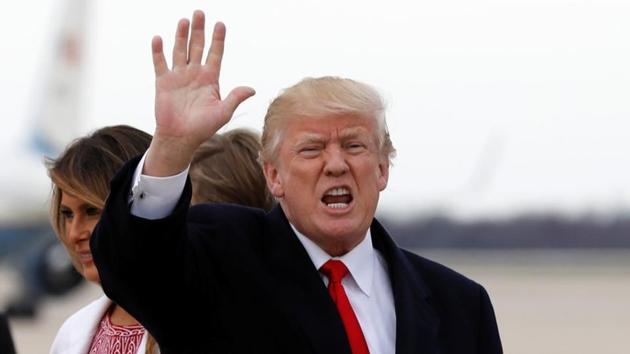 Trump says DACA is dead, calls for using 'nuclear option' on border legislation
The US President asked the Congress to pass new border legislation using the "Nuclear Option if necessary" to muscle it through the Senate.
Hindustan Times, Washington | By Yashwant Raj
UPDATED ON APR 02, 2018 10:47 PM IST
US President Donald Trump on Monday declared that a programme that protects undocumented immigrants brought to the country from deportation was "dead", putting the onus for the scheme's demise on the Democrats and stressing on the need for a wall on the southern border with Mexico.
"DACA is dead because the Democrats didn't care or act, and now everyone wants to get onto the DACA bandwagon... No longer works. Must build Wall and secure our borders with proper Border legislation. Democrats want No Borders, hence drugs and crime!" Trump tweeted, referring to the Barack Obama-era Deferred Action for Childhood Arrivals programme.
Trump had rescinded DACA in September 2017, leaving an estimated 800,000 beneficiaries — including 2,550 Indians — vulnerable to deportation. However, the programme is continuing under the protection of court orders.
Asked later if he wasn't the one who killed the programme, Trump stuck to blaming Democrats: "The Democrats have really let them down. They really let them down."
Trump also urged Congress to use the "nuclear option if necessary" to push through a new border protection legislation, referring to a change of senate rules that allows the majority party to carry out legislative action, pass a bill or confirm an appointee with a simple majority of 51 rather than the required 60 to end a filibuster.
"Congress must immediately pass Border Legislation, use Nuclear Option if necessary, to stop the massive inflow of Drugs and People. Border Patrol Agents (and ICE) are GREAT, but the weak Dem laws don't allow them to do their job. Act now Congress, our country is being stolen!" he tweeted.
Republicans control the chamber with a thin majority of 52, but the party leadership has so far ignored his repeated calls for using this parliamentary tool.
It wasn't clear what triggered the tweetstorm. But in one of his posts, he used the word "caravan" to refer to people crossing into the US via Mexico, seemingly borrowing it from a Fox News segment on migrants from Central America headed for the US through Mexico — that particular news ran on Monday with the word "caravan" in a headline.
"Mexico has the absolute power not to let these large 'Caravans' of people enter their country. They must stop them at their Northern Border, which they can do because their border laws work, not allow them to pass through into our country, which has no effective border laws," Trump wrote.
He followed up with a reference to the North American Free Trade Agreement, which Trump says is skewed in favour of Canada and Mexico at the expense of the US. He has suggested that Mexico could pay for the wall with the profits or the US could work the cost into tariff on imports from Mexico.
"Mexico is making a fortune on NAFTA...They have very strong border laws - ours are pathetic. With all of the money they make from the U.S., hopefully they will stop people from coming through their country and into ours, at least until Congress changes our immigration laws!" he tweeted.
Nafta is currently being renegotiated.
Close