India's Jerusalem vote consistent with its position on Palestine
Updated on Dec 22, 2017 10:19 PM IST
India voted in favour of a UN resolution criticising Trump's Jerusalem move, recording an affirmation of its support of Palestine, undiminished by its growing proximity to the US and Israel.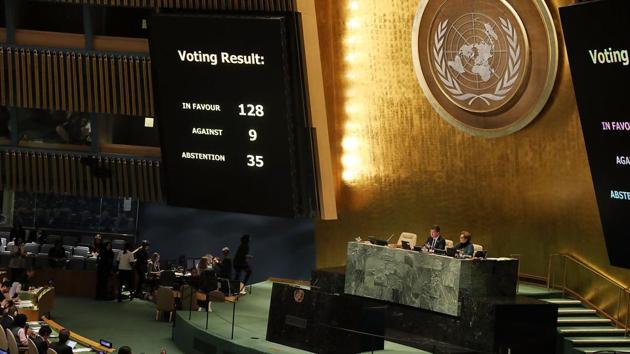 Hindustan Times, Washington |
Yashwant Raj
India's decision to vote in favour of a UN General Assembly resolution criticising the US decision to recognise Jerusalem as Israel's capital of Israel was "consistent" with its historical position on Palestine and "in tune with global sentiments".
India voted alongside 128 of the General Assembly's 193 members on US President Donald Trump's decision on Jerusalem, which bucked an international consensus lasting decades.
And the resolution was approved by an overwhelming majority of countries despite Trump's threat to cut financial aid to nations that backed it.
"The vote was consistent with our position on Palestine historically, across governments going back decades," said an Indian official, on condition of anonymity. "To expect anything else — specially a no-vote — would be a gross lack of awareness of India's stand on the issue."
Only nine countries voted against the resolution, including the United States and Israel. Keeping them company were countries like Nauru, Togo, Micronesia, Palau, Guatemala and Honduras — as the official said, "they have no interest in the Middle East, frankly, they just got bullied by the US to get it done".
Thirty-five countries abstained, including Australia and Canada, and 21 didn't show up to vote at all, deterred perhaps by US threat to cut aid.
US ambassador to UN Nikki Haley invited the remaining 64 countries — those that voted against, abstained or were no-shows — to a friendship reception.
Those who voted in support of the resolution included many close allies and "genuine partners" such as Britain, France, Italy, Spain, Germany, Japan, Saudi Arabia, Jordan and Egypt.
India believes this was on Trump.
"The big story is the US got itself into this… They are our friends, they are our partners, so is Israel. However, we don't know why they went down this path… they could have easily just given up and moved on after the Security Council vote, saying we are done," the official said.
The Trump administration's National Security Strategy recently declared India a "leading global power", and committed the US to working on advancing quadrilateral cooperation with India, Australia and Japan — a grouping that's a barely concealed front against China.
Coupled with Israeli Prime Minister Benjamin Netanyahu's upcoming visit to India, some Indians had speculated India could abstain or vote against the resolution, given growing ties with both the United States and Israel.
Others wondered if an abstention might be a better strategy to insulate these evolving but fragile relationships from avoidable challenges, specially from the White House.
However, an Indian diplomat hit the "yes" button in front in the UN General Assembly, recording an affirmation of India's unwavering support of Palestine, undiminished by its growing proximity to the United States and Israel in the pursuit of its place in an evolving world order.
Anyone who expected otherwise, said an Indian diplomat, "would have had the same blinkered vision you guys have in Washington… you missed the warnings and… the signs that India's support for Palestine goes back by several decades, not just some years".
India has long maintained that Jerusalem — a city claimed by both Israel and Palestine, but occupied by Israel since 1967 — must be a part of "permanent status negotiations" of issues left untouched by the Oslo Accords of 1993.
In September, external affairs minister Sushma Swaraj told fellow leaders at a break-out meeting of the non-aligned movement on the sidelines of the UN General Assembly meetings: "For independent India, support for the Palestinian cause has been a reference point of its foreign policy."
Personalise your news feed. Follow trending topics