Holey Artisan Bakery attack financier fled to Syria to join Islamic State
Updated on Oct 18, 2016 09:44 PM IST
Bangladesh police said Tuesday they have identified three people as financial backers of a group blamed for a deadly attack on a cafe, including a doctor who joined Islamic State jihadists in Syria.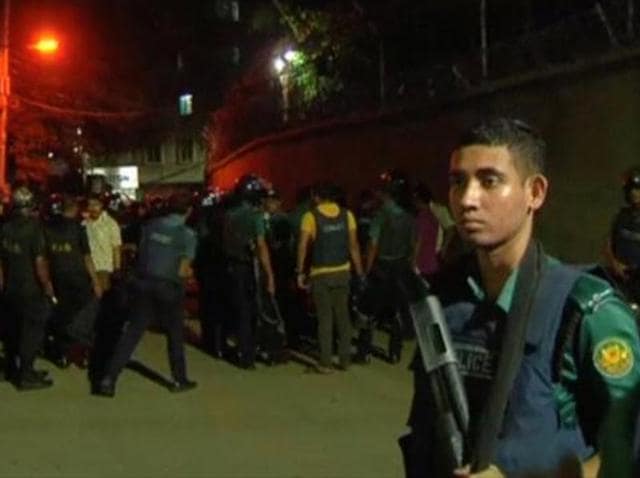 A top Bangladeshi counter-terrorism official said on Tuesday that authorities had identified three men for funding the July 1 attack on a Dhaka restaurant popular with foreigners, including a paediatrician who fled to Syria to join the Islamic State.
Monirul Islam, head of police's counter-terrorism and transnational crimes unit, also told reporters that seven suspected members of a banned militant group had been arrested for alleged involvement in robberies to gather funds for their activities.
He said Rokonuddin Khondoker, the paediatrician identified as one of the financiers of the attack on Holey Artisan Bakery, abandoned his property and left for Syria with his wife, two daughters and a son-in-law last year. Khondoker was a doctor at state-run Dhaka Shishu Hospital.
Five attackers killed 20 hostages, including an Indian and 16 foreigners, in the deadly assault on Holey Artisan Bakery.
The three financiers – Khondoker, retired army major Jahidul Islam and Tanvir Kaderi – contributed 8 million taka (more than $100,000) for the attack, police said.
Jahidul Islam donated his pension and savings to the banned Jamaat-ul-Mujahideen Bangladesh (JMB). Kaderi gave the money from selling his apartment in Dhaka's Uttara area. Jahidul Islam and Kaderi were later killed in police raids.
Monirul Islam said the three men belonged to the JMB, which has been blamed for many other attacks.
The IS claimed responsibility for the July 1 attack, but the government of Prime Minister Sheikh Hasina said the JMB was behind the assault.
Monirul Islam said police carried out the latest raid in Dahak's Tejgaon area on Monday night and arrested the seven suspects from a home.
A statement issued by the counter-terrorism unit identified the arrested men as Jewel Sarker alias Sohrab alias Sarker (32), Abu Bakar Siddique alias Shuvro alias Akash (20), Kashem alias Kawsar alias Kashu (20), Abdul Based (22), Sentu Hawlader alias Zahid (26), Mohammed Rashed alias Kakolir Baba (27) and Nazmul Hasan alias Nayan alias Naresh (23).
Monirul Islam said the suspects were allegedly involved in two robberies in Tejgaon and Banani area in June. The suspects committed robberies for funds that they used to buy arms and to post bail for other arrested suspects. During questioning, the seven suspects admitted they usually entered a home by saying they wanted to rent it and then robbed it.