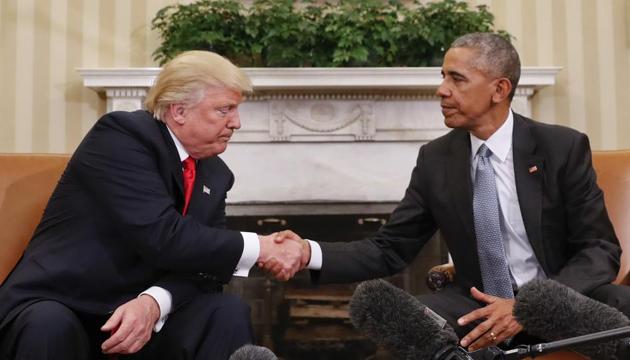 Obama's White House photographer trolls US President Donald Trump on Instagram
Pete Souza's Instagram posts of former Potus appear to be a subtle commentary on the moves of the new president
UPDATED ON FEB 11, 2017 05:45 PM IST
Pete Souza's term as the chief photographer at White House may have come to an end with Barack Obama's tenure, but it seems Souza has a few thoughts on how presidents should behave.
Souza has taken to his Instagram account to post behind-the-scenes photos taken through Obama's presidency, offering a subtle commentary on US president Donald Trump's actions. In just two weeks, his personal account has garnered over 800,000 followers.
In one of Souza's pictures, Obama is seen laughing with a young school girl who wears a head scarf. This was posted after Trump signed an executive order banning immigrants from seven Muslim-majority countries from entering the United States.
Instagrammers didn't miss the hidden meaning behind his posts, "Pete we know what u doing, and we love it! ??" commented user arlene_berlian.
Another powerful picture shows just the legs of four people. While one wears men's shoes – ostensibly Barack Obama – the other three are dressed in long skirts and heels. This was posted after a photo of Trump signing an executive order on abortion, surrounded by an all-male group of advisers, went viral.
The post reads "Meeting with top advisors. This is a full-frame picture. I guess you'd say I was trying to make a point."
Throughout the course of his presidency, Barack Obama made a concerted effort to increase the number of women in top roles in the White House. Trump's cabinet so far, "is more white and male than any first cabinet since Reagan's", reported The New York Times.
Most photos on Souza's Instagram suggest that he has turned his account into a politically subversive piece of art.
A few days after Mexican President Enrique Peña Nieto cancelled his meeting with Trump, after the latter tweeted that Mexico should pay for the wall, Souza posted a photo of Obama chatting with Nieto over glasses of tequila.
If some of Souza's photos are guaranteed to remind people of a better time in the past – hopeful faces at Obama's inauguration, the President chatting amicably with the Australian prime minister – others make you think of what might have been.
After Trump nominated conservative judge Neil Gorsuch to the Supreme Court, overlooking Obama's more liberal pick, Merrick Garland, Souza posted an image of Obama and Garland talking in the Oval Office.
Another image shows Obama with the family of six-year-old Alex who wrote to the President after looking at the heart-breaking photo of Omran Daqneesh, the five-year-old Syrian boy photographed in an ambulance. The caption reproduces Alex's letter to the President in full, in stark contrast to Trump's views on refugees.
Close