'Shocking' Huawei arrest threatens to upend Donald Trump -Xi Jinping trade truce
Bloomberg |
David Tweed and Peter Martin
Dec 06, 2018 02:40 PM IST
As part of trade talks, Donald Trump has insisted that China stop providing government support to strategic sectors including artificial intelligence and robotics as part of its "Made in China 2025" policy.
On the same day Donald Trump and Xi Jinping struck a trade war truce in Argentina, some 7,000 miles away Canadian authorities made an arrest that now threatens to make the US-China conflict much worse.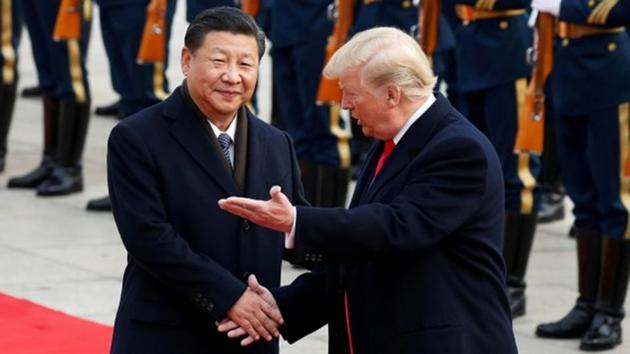 The US is seeking the extradition of Wanzhou Meng, chief financial officer of Huawei Technologies Co., after convincing Canada to arrest her on December 1, likely in connection with violating sanctions against Iran. China immediately reacted with outrage on Wednesday, demanding that both countries move to free Meng. Later, the foreign ministry said it was still waiting for details on why she was arrested, and said trade talks should continue.
It's hard to overstate the significance of her arrest in Beijing: Meng is the daughter of the founder of Huawei, a national champion at the forefront of Xi's efforts for China to be self-sufficient in strategic technologies. While the US routinely asks allies to extradite drug lords, arms dealers and other criminals, arresting a major Chinese executive like this is rare – if not unprecedented.
"The timing and manner of this is shocking," Andrew Gilholm, director of North Asia analysis at Control Risks Group, said by phone. "It's not often the phrase OMG appears in our internal email discussions. "
Right now it's unclear what role Trump played in Meng's arrest, or if he will intervene at some point. The US leader has spent the past few days seeking to convince the world -- and skeptical equity investors -- that China has agreed to major concessions, including reducing or removing tariffs on US cars. Stocks fell across Asia on Thursday.
Analysts said it's more likely the case proceeded separately from the trade talks as part of Trump's efforts to step up prosecutions against Chinese companies that conduct economic espionage and violate sanctions. In October, the US said Belgium extradited a Chinese intelligence official accused of stealing trade secrets from US companies -- an unprecedented development.
Either way, China is almost certain to view Meng's arrest as a major escalation in the trade war that will foment fears of a wider Cold War between the world's biggest economies. As part of trade talks, Trump has insisted that China stop providing government support to strategic sectors including artificial intelligence and robotics as part of its "Made in China 2025" policy.
New Game
"It will definitely complicate the negotiations and they may believe this was done to increase the pressure during this 90-day period," said Dennis Wilder, a former CIA China analyst and senior director for Asia at the National Security Council under president George W. Bush.
"This is sending a signal that there is a new game," Wilder said of the recent US arrests. "They are trying to deter Chinese espionage and make it clear that there are real consequences."
Perhaps no company better personifies the perceived trade threat than Huawei. It's overtaken Apple Inc. in smartphone shipments and aims to surpass Samsung Electronics Co. while targeting record sales of $102.2 billion this year -- more than Boeing Co. It's shooting for the lead in fifth-generation wireless networks and preparing to take on some of America's biggest chipmakers.
That's why Trump's administration invoked its name in blocking a Qualcomm Inc.-Broadcom Inc. merger that would've been the largest deal ever, saying it would hand the lead in 5G to China. Huawei has since been blocked from selling its gear in Australia and New Zealand, got frozen out of a Korean contract, and faces U.S.-led competition even in Papua New Guinea.
The latest US action against Huawei may be even more significant. While the company has made advances in developing its own microchips, it still relies on American equipment to make its networking gear and smartphones. ZTE Corp., another Chinese technology company, nearly collapsed due to U.S. penalties for violating Iran sanctions before Trump rescued it following a request from Xi.
The ZTE case showed China's leaders that they needed to become independent from the U.S. when it comes to critical technologies like semiconductors and network infrastructure, according to Graham Webster, coordinating editor of DigiChina at the Washington-based think tank New America.
"What makes Huawei important is that it is a leader in developing technologies that will make China less dependent on US or European suppliers," he said. "Targeting Huawei through seeking the extradition of a top executive is a major move by the US government, whether coordinated or not."
For some analysts in China, it shows that the US national security apparatus isn't interested in cutting a deal, no matter what Trump thinks.
"Their goal is to decouple with China," said Wang Yong, a professor at the School of International Studies at Peking University. "Negotiations are the wish of Trump and Wall Street."
Exciting news! Hindustan Times is now on WhatsApp Channels
Subscribe today by clicking the link and stay updated with the latest news!"
Click here!
Get Latest
World News
along with
Latest News
from
India
at Hindustan Times.