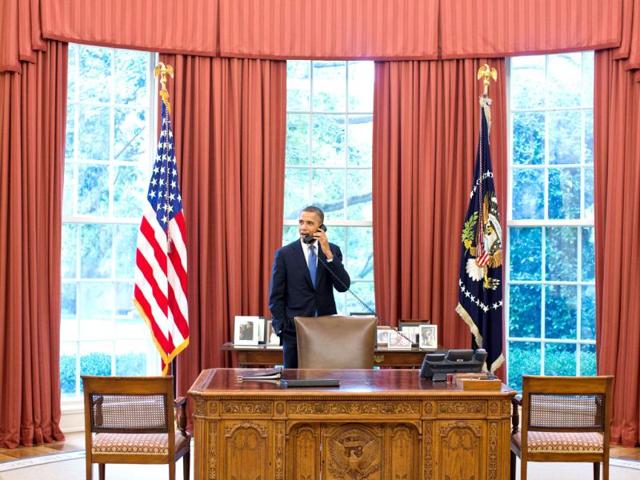 CIA indulged in torture after 9/11, admits Obama
The US administration is soon expected to release a Senate report detailing the torture techniques employed by CIA agents targeting suspected militants after 9/11.
UPDATED ON AUG 02, 2014 07:48 PM IST
US President Barack Obama has acknowledged that the CIA had tortured suspects detained in the immediate aftermath of September, 11 terror attacks.
The US administration is soon expected to release a Senate report detailing the torture techniques employed by CIA agents targeting suspected militants after 9/11. "In the immediate aftermath of 9/11 we did some things that were wrong. We did a whole lot of things that were right, but we tortured some folks. We did some things that were contrary to our values," said the US President. Obama said he understands why it happened.
"I think it's important when we look back to recall how afraid people were after the Twin Towers fell and the Pentagon had been hit and the plane in Pennsylvania had fallen, and people did not know whether more attacks were imminent, and there was enormous pressure on our law enforcement and our national security teams to try to deal with this," he said.
"It is important for us not to feel too sanctimonious in retrospect about the tough job that those folks had. A lot of those folks were working hard under enormous pressure and are real patriots," he said.
"But having said all that, we did some things that were wrong. That's what that report reflects. That's the reason why, after I took office, one of the first things I did was to ban some of the extraordinary interrogation techniques that are the subject of that report," he said.
"My hope is that this report reminds us once again that the character of our country has to be measured in part not by what we do when things are easy, but what we do when things are hard.
"And when we engaged in some of these enhanced interrogation techniques, techniques that I believe and I think any fair-minded person would believe were torture, we crossed a line. That needs to be understood and accepted. We have to, as a country, take responsibility for that so that, hopefully, we don't do it again in the future," Obama said.
The report has stirred a controversy after CIA's chief John Brennan admitted that his officers illegally breached the computers of congressional investigators.
"I have full confidence in John Brennan," he said adding that Brennan has acknowledged and directly apologised to Senator Diane Feinstein that CIA personnel did not properly handle an investigation as to how certain documents that were not authorised to be released to the Senate staff got somehow into their hands.

Obama said that it is clear from the report of the inspector general that some very poor judgement was shown in terms of how that was handled.
"Keep in mind, though, that John Brennan was the person who called for the IG report, and he's already stood up a task force to make sure that lessons are learnt and mistakes are resolved," he said. Meanwhile, Senate Intelligence Committee Chairman Dianne Feinstein said the committee has received the redacted executive summary of the study on the CIA detention and interrogation program.
"A preliminary review of the report indicates there have been significant redactions.
We need additional time to understand the basis for these redactions and determine their justification," she said. "Therefore the report will be held until further notice and released when that process is completed," Feinstein said.
Close