Assam's NRC has echoes of Europe's refugee crisis
Aug 06, 2018 07:37 PM IST
Despite resources, the European Union has not found a solution. In a poll year, a sober political consensus may elude India too.
In a strange way, the debate on Assam's draft National Register of Citizens (NRC) is echoing some of the tensions recently witnessed in the context of the refugee crisis in Europe. Although the history and contexts are different, the politics and possible solutions surrounding the issue are not entirely dissimilar. In the midst of arguments concerning "illegal migrants" and "infiltration", Bengal chief minister Mamata Benerjee is emerging as a strong leader in India. This is similar to the way German chancellor Angela Merkel stood firmly in Europe. When many centralist leaders in Europe were not able to counter the onslaught of Right-wing parties, Merkel showed the courage to defend her open border migration policy. Banerjee has confronted the issue head on. Knowing Assam's history, the issue she knows is more of anti-outsiders (read mainly Bengalis) rather than a Hindu-Muslim issue. She has been accused of playing vote bank politics as if other parties are innocently concerned only about migration issues.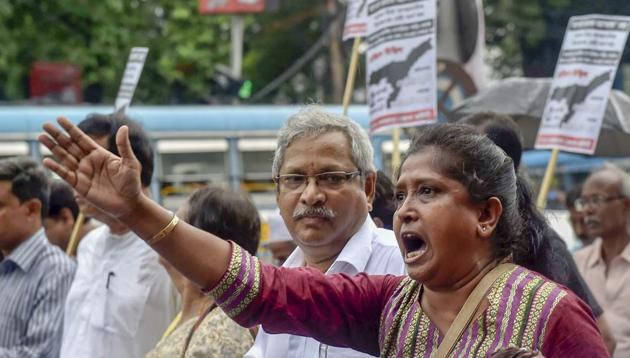 Despite having a number of agreements with third countries and committing huge resources, the European Union (EU) is not able to deport any significant number of migrants to other countries. The 2016 EU-Turkey migration agreement included Euro three billion in aid and easier visa restrictions to 75 million Turks. The results are very modest so far and chaotic migration towards Europe has not stopped. When India does not have even an agreement with Bangladesh, hardly anything could be achieved on that front.
Stay tuned with breaking news on HT Channel on Facebook.
Join Now
Some analysts are suggesting that once we know the final numbers of 'illegal migrants", they could be distributed among different states. Despite having a Common European Asylum System, many countries within the EU have been strongly opposed to accepting refugees from frontline states like Greece and Italy. In India, it could be opening another Pandora's box. It is not that only Assam has a migration problem. Many other states have also received millions of migrants from Bangladesh, Nepal, Sri Lanka and other countries. So in this case, Assam may also need to receive migrants from other states.
Despite the Assam Accord, if we are not able to tackle just Assam problem in decades, is it feasible to expect any national policy in near future? The issue has been made more complicated with linking it with the pending Citizenship Amendment Bill 2016, which excludes Muslims from neighbouring countries. Even in Europe, some politicians were talking of accepting only Christians or non-Muslim migrants. Despite making some headlines, this never made it in to any policy agenda. In India with a huge Muslim minority, this will only vitiate political atmosphere. It may not be acceptable even to the Assamese elite.
In Europe, the migration crisis created serious divisions between member states of the EU. When no centralised solutions were acceptable, free movement under common Schengen border system came under stress. At the height of the crisis, many countries re-introduced border controls. In India, Nagaland has already deployed additional troops at the Assam border to check influx. There are reports that in Meghalaya vigilant groups have set up check posts to stop "illegal migrants" from entering their state.
Despite a mature institutional framework and resources, the EU has not still been able to find a reasonable and acceptable solution. One of the main reasons for this has been rising graph of right-wing political parties throughout Europe. Although many of them have not made huge electoral success, rhetoric has not subsided. In an election year in India, a sober political consensus on Assam's migration is hardly expected. The only saving grace is that complexity of Assam's migration issue may push us for a meaningful debate in the coming months.
Gulshan Sachdeva is Jean Monnet chair at the School of International Studies, Jawaharlal Nehru University
The views expressed are personal