Rijiju's Hindu conversion tweet is a mischievous attempt to twist facts
Feb 14, 2017 06:41 PM IST
Not just is the controversial minister's statement the latest in the litany of alarmist proclamations made by saffron organisations such as the Vishva Hindu Parishad, it couldn't have been further from reality, if Census projections are anything to go by
Union minister of state for home affairs Kiren Rijiju has invited the wrath of Opposition parties with his remark about the depleting Hindu population. In a tweet on Monday, Rijiju said: "Hindu population is reducing in India because Hindus never convert people. Minorities in India are flourishing unlike some countries around (sic)."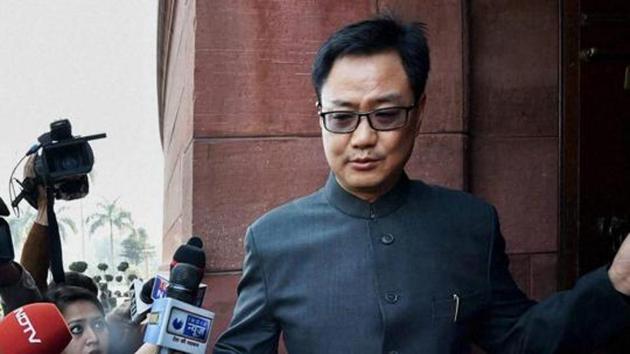 Rijiju is not the first member of the saffron brigade in the country to whip up passions by raising the spectre of majority Hindus being outnumbered by the minorities owing to conversion or much higher rates of population growth. In 2015, in the April issue of Shiv Sena's mouthpiece Samna, party president Uddhav Thackeray wrote an editorial that proclaimed: "In the near future, the Muslim population of India will exceed the number of Muslims in Indonesia and Pakistan, which will result in a cultural and social imbalance of the Hindu nation."
Read: Things Kiren Rijiju says: Four times the minister triggered a controversy
Not just is Rijiju's tweet the latest in the litany of alarmist statements saffron organisations such as the Vishva Hindu Parishad want to propagate, it couldn't have been further from reality, if Census data and projections are anything to go by. According to the 2011 Census, in absolute numbers, the population of Hindus stood at 966 million, rising from 828 million in 2001. In comparison, the absolute population of Muslims in the 2011 Census was 138 million.
According to FactChecker.in, a fact check website, one needs to understand the nuance of fertility rates before we jump to conclusions about depleting numbers. "Population increases are linked to fertility rates – the average number of children born over a lifetime. The fertility rate for Indian Muslim women fell from 4.1 in 2001 to 3.2 in 2010 and is expected to be 2.1 by 2050. Hindu fertility rates are 2.5, expected to fall to 1.9 by 2050, below the replacement level of 2.1," said an article on the site. "So, while Muslims are, currently, growing faster...that rate is likely to fall by the next census in 2021," added the article.
So, the difference isn't as considerable as alarmist politicians such as Rijiju would have us believe. If you take a deeper dive into data, it emerges that religious affiliations have little to do with the size of the family and favourable social indices equally contribute to slower population growth. So, in states where literacy levels and other socio-economic indices are better, both majorities and minorities will show slower growth owing to greater use of contraceptives, delayed age of marriage and greater awareness.
Read:Rijiju's Hindu population remark an attempt to polarise, garner votes: Congress
Was such a statement an attempt to polarise voters in the middle of assembly elections in five states is anybody's guess.