Why more and more students in India are opting for private tuitions
Updated on Apr 06, 2016 01:45 PM IST
The excessive thrust on rote learning in State-run schools is fuelling the coaching class boom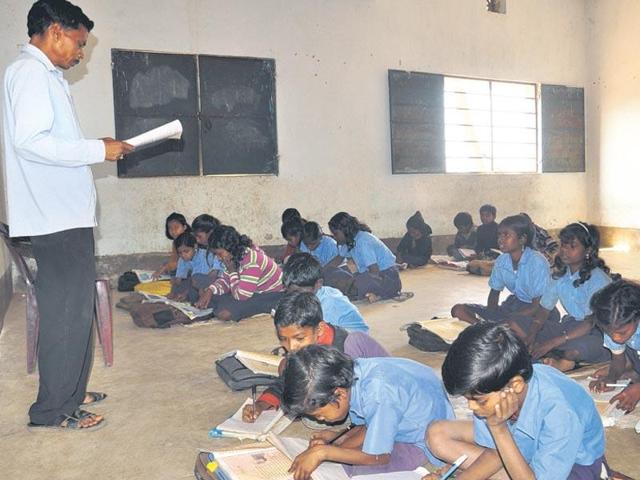 India's education system --- especially the primary and secondary levels --- is in a comatose state.
Many will find this a harsh assessment, but there is evidence to justify it.
For the last 10 years, Pratham's Annual Status of Education report (ASER) reports, known for its robust data and analysis, has been saying that learning levels of primary students are so poor that a fifth-grader cannot read a second-grade book.
Read: ASER'S 2014 REPORT
A recent National Sample Survey Organisation report shows that thanks to the low quality of education, more and more students are relying on expensive private coaching and tuition. The report estimates that about 11% to 12% of a family's expenditure goes for coaching classes and tuitions.
The number of students taking such classes is estimated to be 71 million, almost 26% of the total number of students in the country.
Of these, 41 million are boys and 30 million are girls.
Unsurprisingly, over 89% of people said the main reason going in for private coaching was "augmenting basic education". In other words, school education sucks.
Plus, there is the question of equity: There is a large segment of students who cannot afford expensive out-of-school coaching. A failed school system hits them the hardest.
COACHING CLASSES: PAY TO MEMORISE
This burgeoning number of students in coaching classes is a reflection of the significant challenges India's education system faces today.
"Our schools are not delivering because there is no effort to improve the teaching quality. This holds not only true for low-end State-run schools but even Kendriya Vidyalayas," Vimala Ramachandran, Senior Fellow, National University of Educational Planning and Administration, told me during a telephonic interview.
"The [run-of-the-mill] private schools are modelled to make parents part-educators. When parents cannot fulfil that role for various reasons, they are forced to send their children to tuitions".
Also, let's not forget that many students in State-run schools are first-generation learners and many parents are ill-equipped to tackle their children's education, and hence fall prey to coaching classes of all shades.
Ramachandran, who has been working on elementary education, girl's education and women's empowerment for decades, blames the "information-driven" curriculum and the focus on "rote-learning" as the two main culprits fuelling the tuition system.
WHERE ARE THE CHILDREN?
Over the years, I have spoken to several educationists and most believe that enrolment, attendance, mid-day meals and participation in training programmes have become the success parameters of India's education system. Unfortunately, children are nowhere in the picture; neither are the teaching and learning processes.
FOR MOST TEACHERS, IT'S JUST A JOB
After the Right to Education Act came into force in 2009, a lot of funds and energy was spent on building infrastructure in schools.
There is no doubt that those issues are important, but along the way, India forgot its teachers, the backbone of the education system.
From the 1970s to 2009, educational degrees were enough to get a teacher's job.
RTE did introduce a teacher eligibility test ----a quality control effort ---- but there is still a huge backlog of teachers who came through the earlier system who do not fit the quality bill.
Moreover, the in-service training of teachers is corruption-ridden. Instead of meeting individual needs of teachers and providing school-specific inputs, its one-size-fits training module ensures that everyone goes through a similar 20-day training module.
Ramachandran's study ---- Why school teachers are demotivated and disheartened ---- explains this problem: "While the training programmes are intended to improve knowledge levels as well as skills ---- especially in child-centred teaching processes ---- teachers claim that these programmes add little value when the overall teaching environment, the examination system and other aspects of the school remain unchanged".
Read: Why school teachers are demotivated and disheartened
Recently, I was reading an appraisal of the of the Finnish education system, which is considered to be the best in the world, by US-based educator Janet English.
In her very engaging blog on her experience in Finland, chapter 6 deals with teachers.
Here's what a Finnish teacher told English about what he thinks about his job and responsibilities.
"I think that teaching is like sailing. You have a target where you want to go but when you go to a classroom you don't know which way the wind is going to go."
That's how education should be: It should teach children to explore and analyse, and encourage them to follow the wind, instead of focusing too much on reaching the horizon.
Read | The 'Finnish Way' to optimize Student Learning
(The views expressed by the writer are personal. She tweets as @kumkumdasgupta)
Close Story
Personalise your news feed. Follow trending topics