NDA will seal India-Bangladesh border: Rajnath Singh in Assam
Home minister Rajnath Singh said during an elections rally in Assam that the NDA government will seal the India-Bangladesh border to stop illegal immigration.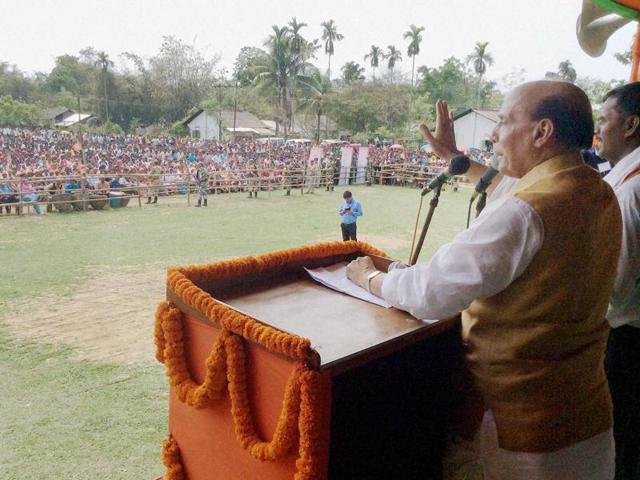 Updated on Mar 31, 2016 11:36 AM IST
Home minister Rajnath Singh said on Wednesday that the NDA government will "completely seal" the Indo-Bangladesh border within a reasonable time frame to stop illegal immigration from Bangladesh, also attacking the Congress of failing to check intrusion.
Addressing a series of election rallies in Assam, he took a dig at Congress vice-president Rahul Gandhi for accusing BJP of fomenting riots in Assam and said it was during the Congress rule that maximum number of riots took place such as the Nellie killings in Assam in 1983 or the anti-Sikh riots in Delhi in 1984.
"The Congress-led governments ignored illegal immigration for years and they did not take any effective step against it. We need a state government in Assam which cooperates with us in curbing illegal immigration. Assam has only 263km of border with Bangladesh. It will be sealed with the active cooperation of the state government."
"Bangladeshi intruders are coming to India through the Indo-Bangladesh border. What is the reason, why didn't you (Congress) stop them? Why didn't you completely seal the Indo-Bangladesh border?" he asked at an election rally in Duliajan.
"We just need some time and we will seal the Indo-Bangladesh border completely so that no Bangladeshi intruder can come in," he said.
Besides Duliajan, Singh addressed rallies in Mahmora, Thowra and Moran in Assam that go to polls in two phases on April 4 and 11.
"We would also curb the inflow of fake Indian currency notes (FICN) into the country through international borders. FICN is not only a threat to internal security but it also weakens India's economy," he said.
Singh said the NDA government wants peace and security in Assam and other north-eastern states. "The security scenario has greatly improved in the North east after the Modi government assumed office, with the level of violence reducing to lowest in the past 18 years," he said.
Making an appeal to extremist groups and insurgents, Singh said they should abjure violence as the government was ready for talks. "The government will not tolerate killing of innocent and poor people. We will take strong action against extremists who indulge in violence," he said.
"As Union home minister, I want to send a message to all militants to give up the path of violence and arms. If they have any problem, they must end violence and talk to us. We are prepared to hold talks and settle all issues only if there is no violence and killing of innocent people," he said.
Close Story