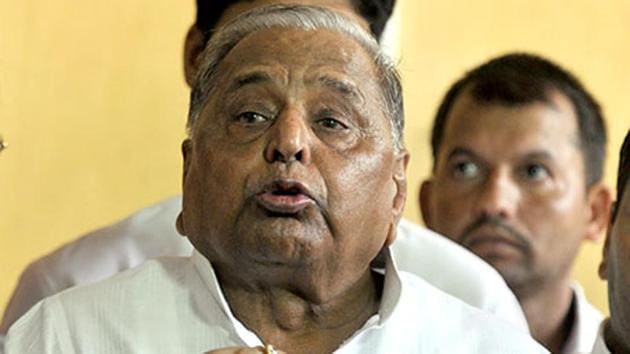 SP chief Mulayam rules out alliance ahead of UP polls, declares 325 candidates
Samajwadi Party chief Mulayam Singh Yadav ruled out any pre-poll alliance for Uttar Pradesh assembly elections. There won't be any tie-up with Congress as argued by Akhilesh Yadav.
UPDATED ON DEC 29, 2016 12:40 AM IST
Samajwadi Party chief Mulayam Singh Yadav ruled out on Wednesday any possibility of a pre-poll alliance for next year's Uttar Pradesh assembly elections and declared 325 party candidates, denying tickets to several loyalists of his son and chief minister Akhilesh Yadav.
Yadav made it clear his party wouldn't be declaring any candidate for the chief minister's post before the elections.
"There were 4,200 applications for 403 seats. Each applicant was interviewed personally and winnable candidates were selected," he said in Lucknow. Names of 78 more candidates would be declared soon.
The announcement was a setback for Akhilesh, who has been locked in a bruising fight for control of the party with his uncle and state president Shivpal Yadav.
The chief minister, who is touring Bundelkhand, said he will talk to his father on the choice of candidates. "The list does not include names of certain candidates who are sure to win. I will take it up with the SP chief."
Akhilesh sacked two Shivpal loyalists, Surbhai Shukla and her husband Sandeep Shukla, from two state corporations. The move is viewed as a tit-for-tat response.
The chief minister drew up his own list of 403 candidates on Sunday and sent it to Mulayam, bypassing Shivpal. But the party chief appeared to have sided with Shivpal, denying tickets to at least three top ministers known to be close to Akhilesh.
Also, he ignored Akhilesh's objections to certain names such as Sigbatullah Ansari, the brother of jailed gangster Mukhtar Ansari, and Atiq Ahmed who faces over 40 criminal cases.
"Not only Akhilesh, so many people gave me their list. I have tried to adjust as many as possible but the final names are my choice," Mulayam said, predicting that the elections will happen before February 28.
Top ministers Arvind Singh Gope, Ram Govind Chaudhary and Tej Narayan Pandey or Pawan Pandey — who was expelled at the height of the Yadav family feud in October — were denied tickets.
The chief minister has indicated he will prefer a region dominated by the rival Bahujan Samaj Party of Mayawati.
Mulayam's announcement ended weeks of speculation of a possible tie-up with the Congress. Akhilesh was publicly arguing for an alliance, saying it would sweep the polls in India's most populous state.
But the feud within the Yadav family and friction over seat-sharing had held up talks.
The SP is hoping to buck anti-incumbency after a landslide win in the 2012 polls. But it is up against a resurgent BJP, whose campaign is led by Prime Minister Narendra Modi, a strong BSP, and the Congress.
Shivpal's aides and favourites appear to dominate the list. His associate Ambika Chowdhary who lost in 2012 will contest from Fefna in eastern UP. Another two loyalists — Mulayam's younger daughter-in-law Aparna Yadav, and Shweta Singh – found a place.
Close