UP elections: Demonetisation pays off, Modi govt expected to step up reforms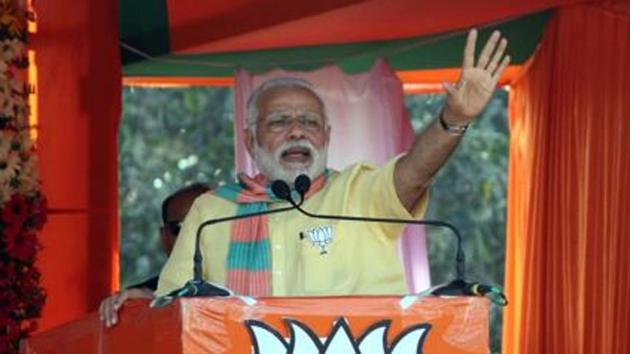 Updated on Mar 13, 2017 11:17 AM IST
The Narendra Modi government is expected to bite the bullet on contentious economic reforms, including those in labour and banking & financial sectors, after a ringing endorsement of its policies from voters in assembly polls on Saturday.
The BJP registered a resounding victory in Uttar Pradesh elections which were billed as a "referendum on demonetisation", a controversial decision by Prime Minister Modi last November that forced people to spend hours at ATM kiosks and banks to withdraw money as a cash crunch hit hard.
The poll outcome belied apprehensions in the Sangh Parivar and a section of the BJP about the political fallout of the Centre's decision. The concerns were accentuated by a concerted attack on the government by opposition parties, which sought to make political capital of people's hardships.
With his demonetisation gamble paying off electorally, Modi is expected to push reforms including those perceived to be politically unpalatable.
"The opposition parties will see the writing on the wall that India is supporting Modi's economic policies in a big way. It will now be easier for the government to secure a broader political consensus on restructuring the banking and financial sector," said NK Singh, former parliamentarian and revenue secretary.
The reforms he expects the government to initiate include permission for banks to raise money from the market and tackle the problem of non-performing assets of public-sector banks by opting for a "haircut".
Writing off a big chunk of bad loans could be a politically contentious decision but Saturday's verdict could give the government the required political heft and moral courage to go for it. With a demoralized opposition in Parliament, the two enabling legislations for the rollout of the goods and services tax (GST) are likely to have a smooth passage. Though the opposition has a majority in the Upper House, they couldn't block money bills and after the state election results, they are unlikely to even put up a resistance.
The government can also be expected to stand its ground within the Sangh Parivar on labour reforms concerning wages and industrial relations among others. While Modi government seemed to have developed cold feet on land reforms, Saturday's poll verdict might give it enough political heft and confidence to re-visit the issue.
Poll results are set to whet the BJP's ambition for further expansion of its national footprint. While it has already reduced its chief political rival, the Congress, to a travesty of a pan-India party—ruling in just half-a-dozen seats—the BJP could now aim to capture the space occupied by regional parties in different regions. The BJP recently made huge gains in Odisha panchayat polls and could emerge as a serious threat to friend-turned-foe BJD. In Tamil Nadu, J Jayalalithaa's demise has left a political vacuum as the AIADMK does not seem to have a popular and charismatic leader of her stature to provide stewardship to the party.
Given Modi's popularity in Tamil Nadu, the BJP might have an opportunity to fill up this vacuum. In the immediate context, the BJP has its task cut out in the Prime Minister's home state of Gujarat and Congress-ruled Himachal Pradesh that are scheduled to go to polls in November this year.
Saturday's poll results also came as an endorsement of finance minister Arun Jaitley's budget that avoided populism, stuck to fiscal prudence and focused on long-term measures to insulate the economy from the disruptive impact of demonetisation. He had enough reasons to smile on Saturday.
Close Story
Personalise your news feed. Follow trending topics