Horoscope Today: Astrological prediction for January 20, 2023
Updated on Jan 20, 2023 09:23 AM IST
Daily horoscope: Are the stars lined up in your favour? Find out the astrological prediction for Aries, Leo, Virgo, Libra and other zodiac signs for January 20, 2023.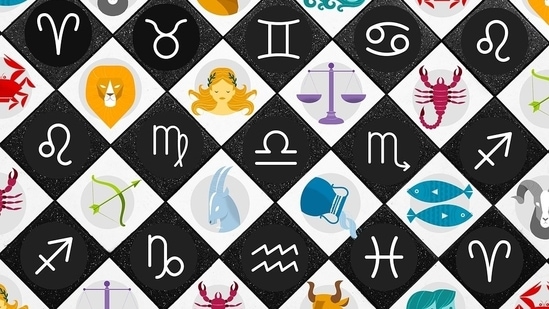 All zodiac signs have their own characteristics and traits which define someone's personality. Wouldn't it be helpful if you started your day by already knowing about what's going to come your way? Read on to find out whether the odds will be in your favour today.
ARIES (Mar 21-Apr 20)
Your family will remain important to you, and you'll enjoy spending time with them. Exhibiting skill and efficiency may help you climb the professional ladder. Inappropriate spending can derail your budget. Health can be in a not so good shape due to carelessness. Some business trips may not yield the expected results. A house purchase might become affordable for some of you. College students may get a boost in their chosen career field. Read Aries Horoscope Prediction for January 20, 2023
Also Read Career Horoscope Today
Love Focus: It could take some serious work, but it's worth it to put your romantic relationship first.
Lucky Number:2
Lucky Colour: Orange
TAURUS (Apr 21-May 20)
Your family life has the potential to be extremely fulfilling. You may enjoy a sound financial position with astute decisions. You will benefit greatly from your inherent capacity for self-discipline and moderation. Taking your job for granted can have worrisome results. Some of you might be able to go check out the local landmarks, but you'll need to plan. There may finally be an end to the years of litigation surrounding property disputes. Students may shine in upcoming entrance tests and exams. Read Taurus Horoscope Prediction for January 20, 2023
Love Focus: Your relationship is perfect, but romantic date nights can take it to the next level.
Lucky Number:9
Lucky Colour: Dark Red
GEMINI (May 21-Jun 21)
The day appears to be stable and good for your overall good health. It will be easy enough for you to achieve professional success. Some may be able to free up capital and pursue risky but lucrative ventures a try. As they help around the house, your children may learn a lot and bring a lot of cheer. You may have to postpone a lengthy road trip due to circumstances beyond your control. Lack of concentration can lead to poor results in school. Good profits are indicated for those dealing in real estate. Read Gemini Horoscope Prediction for January 20, 2023
Also Read Love Horoscope Today
Love Focus: With enough trust and intimacy, you can make your relationship official.
Lucky Number:6
Lucky Colour: Cream
CANCER (Jun 22-Jul 22)
An upbeat attitude can help you do well at work and enjoy it. A get-together in the evening might lead to happiness at home. You may still need medicine to treat a few allergic symptoms, even in good health. You might not stick to your budget and lose money if you spend extravagantly. A long trip with the good company may just be the thing to calm your mind. Be careful when dealing with property issues, as returns are uncertain. Students may stay ahead of the rest of the pack. Read Cancer Horoscope Prediction for January 20, 2023
Love Focus: You'll be interested in someone you meet by chance or at work.
Lucky Number:9
Lucky Colour: Maroon
LEO (Jul 23-Aug 23)
Spending quality time with people you care about can help you build stronger relationships with them. Finances may be stable enough to afford to do something nice for yourself. Today might be a good day to decide on future career goals and dreams. But a small health problem might make you feel on edge. You can opt for a quick trip to a nearby resort or homestay to get some fresh air. Some of you might be able to use your connections to get a great deal on the house. Students may need to pay full attention to their studies. Read Leo Horoscope Prediction for January 20, 2023
Love Focus: If your significant other understands your feelings, it may help strengthen your relationship.
Lucky Number:1
Lucky Colour: Light Yellow
VIRGO (Aug 24-Sept 23)
Making investments with an eye toward the future might be a good choice. As your competence is acknowledged, you can anticipate professional success. A senior relative could be consulted for advice on important matters. To protect your well-being, it's best to adopt an attitude of total acceptance toward your feelings. Getting fresh air and walking around might help lift your spirits if you feel blue. Returns on real estate investments may take longer to materialise. Students need to be attentive in class to excel. Read Virgo Horoscope Prediction for January 20, 2023
Love Focus: Committed partners will feel content with the current state of their relationship.
Lucky Number:5
Lucky Colour: Orange
LIBRA (Sept 24-Oct 23)
A new job is likely to be suitable for your skills and background. You may be very successful in any new business venture you undertake. The peace in the home could be restored with an honest and open discussion. You can thank your good health for that perpetual joy and vitality. A day of planning and discussion can help close a land deal successfully. If you carefully plan your vacation expenses, you'll be able to relax while away. Students can easily be sidetracked by hanging out with the wrong crowd. Read Libra Horoscope Prediction for January 20, 2023
Love Focus: Unpleasant events can affect your marriage; be honest with your partner.
Lucky Number: 1
Lucky Colour: Off White
SCORPIO (Oct 24-Nov 22)
You can remain healthy if you meditate regularly and focus on the positives. You may rake in cash from past investments from today. Expect your home life to pick up the pace as you renew contact with long-lost relatives. You'll have to adjust to new circumstances at work if you want to keep making headway. Your love life might flourish in the serene weekend getaway. You could make a lot of money by selling off the family property. Internships are a great way for students to secure good placements. Read Scorpio Horoscope Prediction for January 20, 2023
Love Focus: It could be time for you to spice up the romance by trying some new things together.
Lucky Number:2
Lucky Colour: Peach
SAGITTARIUS (Nov 23-Dec 21)
Your health may improve with your healthy diet and regular workouts. Your dedication to your work will not go unnoticed by those in charge of you. The situation at home can remain tense if loved ones do not approve of your decision. Those who have contributed to a thriving new business for a while may soon see financial rewards for their efforts. You can expect losses if you invest in real estate right now. Recent graduates might have a good shot at getting past the interview stage. Read Sagittarius Horoscope Prediction for January 20, 2023
Love Focus: Your love life may flourish as you learn more about each other.
Lucky Number:1
Lucky Colour: Maroon
CAPRICORN (Dec 22-Jan 21)
If you lead a project well, you could be given more responsibility and a raise in pay. Let time heal wounds and adopt a carefree outlook on life. If regular exercise and yoga help you feel relaxed and at peace, you should keep doing them. However, it may take vigilant attention on your part to keep your finances stable. You may finally get to take that vacation you've been dreaming about for a long. Real estate investment may yield moderate profits. Student's exams performance may improve. Read Capricorn Horoscope Prediction for January 20, 2023
Love Focus: Try planning some exciting activities together to spice up your romantic repertoire together, perhaps outdoors.
Lucky Number: 9
Lucky Colour: Magenta
AQUARIUS (Jan 22-Feb 19)
If you have the capital in hand, you may be able to start a profitable business. Having supportive coworkers and superiors can do wonders for your output at the workplace. Your emotional outbursts may hurt your loved ones. Maintain the serenity you've found by sticking to your routine and meditating regularly. Those preparing to move abroad may have much to do before leaving. The sale of real estate could result in a neat profit. They could study for upcoming tests and job interviews. Read Aquarius Horoscope Prediction for January 20, 2023
Love Focus: Your feelings could run high today as you share your innermost thoughts with your partner.
Lucky Number:11
Lucky Colour: Green
PISCES (Feb 20-Mar 20)
You can improve your sense of wholeness through regular naturopathy practises. You may get many opportunities to demonstrate competence and earn kudos at the workplace. If your income and savings are average, you should avoid wasteful spending. Disagreements about specific issues may disrupt the home atmosphere. Changes to your travel plans may be necessary at the eleventh hour. You could run into property issues if you are not vigilant and quick. To do well in the entrance test, students will need to put in some extra time studying. Read Pisces Horoscope Prediction for January 20, 2023
Love Focus: Some of you are about to tie the knot with your long-time sweetheart.
Lucky Number:5
Lucky Colour: Royal Blue
(Prem Kumar Sharma, Manisha Koushik can be contacted at +91 9216141456, +91 9716145644; Email: psharma@premastrologer.com, support@askmanisha.com)