Eight suspected SIMI activists escape from Bhopal jail, guard killed
Oct 31, 2016 11:59 AM IST
Eight activists of the Students Islamic Movement of India (SIMI) escaped from the Bhopal Central Jail on Monday morning, killing a security guard, a senior police officer said.
Eight suspected members of the banned Students Islamic Movement of India (SIMI) broke out of a high-security Bhopal jail early on Monday after killing a guard, the second such escape from a Madhya Pradesh jail in three years.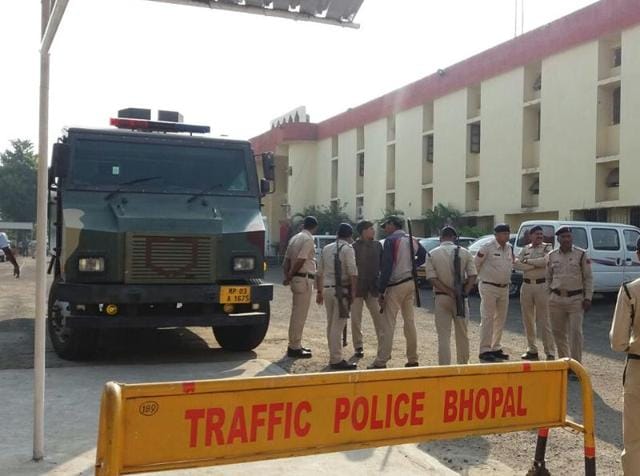 Sources told HT that four of the eight suspects have contacts in neighbouring Chhattisgarh, where Prime Minister Narendra Modi is expected to speak on Tuesday.
State home minister Bhupendra Singh admitted a security lapse and added that chief minister Shivraj Singh Chouhan expressed his displeasure about the functioning of the jail department.
Read: Nationwide alert sounded after 8 SIMI activists break out of prison in Bhopal
The CM has suspended five jail staff, including superintendent Akhilesh Tomar, and sounded a statewide alert for tracking and nabbing the suspects.
"A reward of Rs 5 lakh each has been placed on the arrest of each the absconding SIMI men and neighbouring states," Singh added.
Police told HT that the jail breakers are accused in cases that include the 2008 Ahmedabad serial blasts, and explosions in Karimnagar, Pune and Chennai two years ago.
The SIMI was launched in 1977 to look after the welfare of Muslim youth but gradually adopted a more hardline ideology, especially after the Babri Masjid demolition in 1992. The government banned the outfit in 2001 but experts say many erstwhile members who went underground managed to stay in touch and expand their network.
Now, there are more than 400 full-time cadre and more than 20,000 ordinary members, security agencies say.
Around 2am on Monday, the suspected SIMI men used knives fashioned out of jail spoons to kill guard Ramashankar Yadav in the isolated C Block where they were lodged, sources said. They then held another guard hostage between 2 and 3am before using bed sheets and wood lying around to make a laddder and climb out of the jail premises.
Police said this was identical to the manner in which four of these eight men escaped from the Tantya Bheel Jail in the state's Khandwa district on October 1, 2013.
The eight SIMI men have been identified as Sheikh Mujeeb, Majid, Khalid, Aqeel Khilji, Zaqir Hussain, Mohd Saliq, Sheikh Mehboob, alias Guddu, and Amjad.
Former state SIMI chief Abu Faisal alias Doctor sentenced to life imprisonment last year in an ATS constable murder case was lodged in the same jail and is being seen as mastermind of this jail break. Faisal -- along with Mehboob, Amjad, Aslam, Zaqir, Aizazuddin and Mirza Beig -- had escaped from the Khandwa jail three years ago.
Aqeel Khilji is also a former state SIMI chief who was arrested in March 2012 from Maharashtra on charges of planning the assassination top RSS and BJP leaders.