As water scarcity grips MP, three injured in clash in Umaria
Officials say water in at least 50 cities are being supplied once in three days while in 117 cities, it is being supplied once in two days.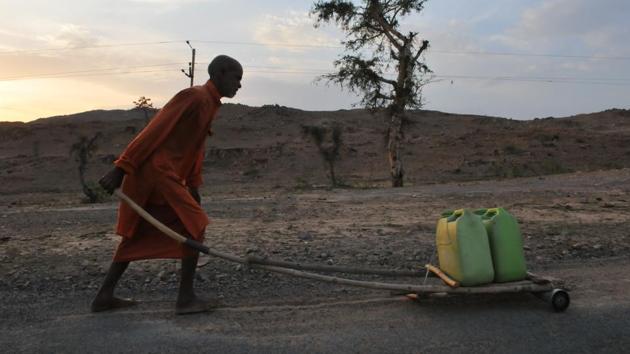 Updated on May 30, 2018 08:26 PM IST
In the third clash over water this month, three people were injured as two groups fought with each other on Tuesday over who will take water first in Madhya Pradesh's Umaria district, about 500 km east of the state capital, police said on Wednesday.
An acute water scarcity has forced the administration to introduce rationing in 167 cities with 40% of the state's reservoirs going dry.
Several regions of Madhya Pradesh, including Bundelkhand, has been facing acute water shortage because of scanty rainfall in last monsoon and an almost dry winter. Twenty nine of the 51 districts of Madhya Pradesh received very less rain in the last monsoon.
According to MP Water Resources Department, 40% of the reservoirs have almost dried up and the water in the Narmada is less than half of the normal quantity for this period of the year, thereby impacting the overall drinking water supply.
Urban administration department officials said water in at least 50 cities are being supplied once in three days while in 117 cities, it is being supplied once in two days.
Tuesday's clash in Indwar village was third such incident in the state this month.
According to police Pradeep Soni, a resident of Indwar village was attacked by one Dharmendra Chaturvedi and others from the village with a knife when he tried to take water from a public hand pump. When Soni's wife with her one-year-old son in her arms came to her husband's rescue Chaturvedi allegedly also hit her, injuring her and her son.
"Chaturvedi had asked me several times not to take water from the hand pump. But due to acute water crisis I wanted to have water from the hand pump but Chaturvedi attacked me," said Soni. On the other hand, Chaturvedi told the police that Soni attacked him when he jumped the queue for taking water from the hand pump.
Ajeet Yadav, superintendent of police, Umaria said, "Both the parties have registered cases against each other. We are investigating the matter."
Earlier this week, supporters of two corporators in Bhopal clashed over where the water tankers should be sent first, police said.
On May 2, more than 12 people were injured in a clash between two groups over fetching water from the only functioning hand pump in Dabra town in Gwalior district. Three of the injured were said to be critical.
Close Story
Personalise your news feed. Follow trending topics