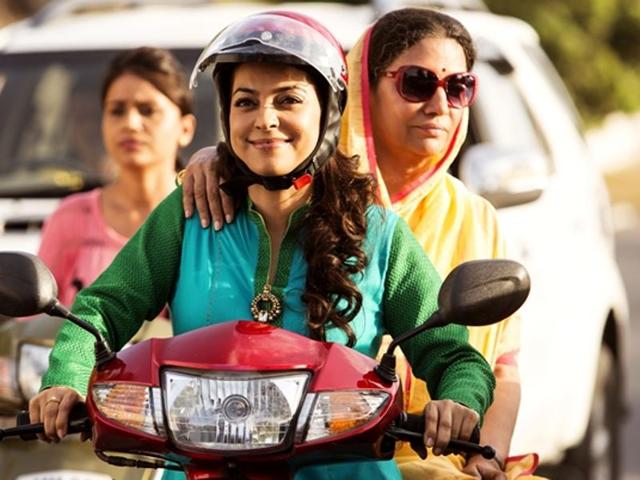 Shabana Azmi put me to shame during Chalk N Duster: Juhi Chawla
In a candid chat with Hindustan Times, Juhi Chawla talks about working with Shabana Azmi on Chalk N Duster and how the veteran actor put her to shame. 'She even took the film's designer to shop with her for her film's wardrobe, which truly matches her character of a teacher. This has actually put me to shame, says Juhi.
UPDATED ON JAN 14, 2016 02:48 PM IST
What's the first thing that comes to mind when you think of Juhi Chawla? It, undoubtedly, has to be her sunshine smile which an entire generation fell in love with. From winning the Miss India crown to winning millions of hearts as an innocent Rajasthani girl in Qayamat Se Qayamat Tak (1988) to becoming one of Bollywood's biggest stars, Juhi has certainly come a long way.
The actor, who completes 30 years in the industry, says that the journey has been an enriching one. "It has been an amazing journey with so much recognition and lovely opportunities," she says. The Bol Radha Bol and Darr star is also all praise for the young generation of actors. She also sounds excited about playing a teacher in Jayant Gilatar's upcoming film Chalk N Duster, which also stars Shabana Azmi and Richa Chadha. Hindustan Times caught up with the actress on her 30-year journey in the film industry, films and more:
Your new film has strong performers such as Shabana Azmi, Zarina Wahab, Girish Karnad and Divya Dutta. How was it working with Shabana Azmi, as she is rarely seen in films these days?
Yes, that's a great thing about this film. It's always interesting as there's something to learn from the experienced as well as catch on to the enthusiasm from those who have just started out. This is the first time I have worked with Shabanaji. I remember the first time she read the script and listened to the role, and she just got so taken up with the whole thing. She even took the film's designer to shop with her for her film's wardrobe, which truly matches her character of a teacher. This has actually put me to shame, as I felt that I was always very much involved in these aspects, but going to this length, no I yet haven't. So yes, working with such an evolved actress like Shabanaji has been amazing.
Watch the trailer of Chalk N Duster
This is your 30th year in the film industry. How has been the journey?
From Zarina in Sultanat (1986) to Jyoti Ma'am in Chalk N Duster (2016), it has been a long journey. From being an absolute newcomer, who was young and inexperienced, to learning everything on the job, it has really been a wonderful journey. I remember the initial days when I had just started my career. The director would say 'sound, camera, action' and the moment the camera would start rolling, the dialogues would fly out of my head! My knees would shake and I used to silently pray for the shot to go right. But now, I say okay, I can handle this. Whatever it is, kaam ho jayega. There have been ups and downs and insecurities. I have received so much love, had such amazing time with the film units making films, crying when they didn't work and rejoicing when they did. It has just been an amazing journey with so much recognition and lovely opportunities. I feel extremely grateful and wouldn't have wanted it any other way.
Which film do you consider to be your best?
I have many favourites. In Qayamat Se Qayamat Tak (QSQT), I played a Rajasthani girl who spoke with a 'hum'. I really liked her dignified way of speaking and it made the role very special. I played an innocent young girl in the film, which was pretty close to my personality. Hence I could do it with more ease. I really enjoyed shooting for Raju Ban Gaya Gentleman (1992). Again that character was very me. It was about a simple girl wanting to believe in the good things, who was happy with a simple life. This is very close to my real self. I really enjoyed shooting for Aaina (1993) as well, where the simple girl gets the prince. I really wanted to do my best in Darr (1993) because I had only watched Yash Chopra's films in my growing up years. But I never ever imagined I would be in one of Yash Chopra's films. Darr was a challenge for me.
Watch: Juhi and Aamir Khan in a song from Qayamat Se Qayamat Tak
Watch: Juhi Chawla in Jaadu Teri Nazar from Darr
Who do you admire among the young breed of actors?
Deepika (Padukone) is very talented and is shining bright on screen. Ranbir (Kapoor) is fantastic. I really like him as an actor for the various roles he plays. Ranveer Singh is also an actor to watch out for. Alia (Bhatt) is quite young but very talented. Varun (Dhawan) has progressed a lot and has great potential. According to me, Shraddha (Kapoor) is the new superstar. However, I have also lately been wondering where Imran Khan has disappeared!
Watch Deepika and Ranveer in a song from Bajirao Mastani
And do you still have a wish list of actors and directors you want to work with?
Of course, I would love to work with Rajkumar Hirani and Shooji Sircar.
Close