I'm done with Kangana Ranaut playing the woman and victim card: Karan Johar
Updated on Mar 06, 2017 07:58 PM IST
Further taking on Kangana Ranaut's nepotism remarks, filmmaker Karan Johar says that if Kangana Ranaut finds the film industry so bad, she should leave it.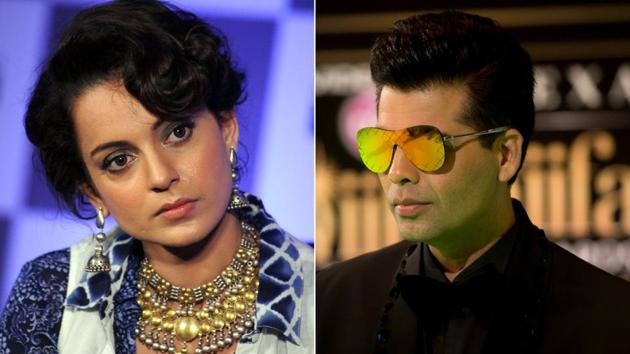 Hindustan Times |
, New Delhi
HT Correspondent
Whoever thought the Kangana Ranaut-Karan Johar war of words was over, is wrong. Karan opened up about Kangana accusing him of 'nepotism' on his chat show, during his recent interaction at an event in the London School of Economics. On Koffee With Karan, Kangana had called Karan "a snooty, flag-bearer of nepotism, who was intolerant to outsiders in the film industry." She also hinted that he is running a 'movie mafia'.
"She was my guest and I had to hear what she had to say. She has a right to have an opinion. When she says 'Flag bearer of Nepotism', I just want to say her, I am glad she knows what it all means. I don't think she has understood the entire meaning of the term. What is nepotism… am I working with my nieces, nephews, daughters, cousins? And what about those 15 filmmakers, who are not from the film industry, who I have launched and who did the movies. That we're not going to talk about! Tarun Mansukhani, Puneet Malhotra, Shakun Batra, Shashank Khaitan… they all come from no film background. You give these people film careers and they have a platform to stand on and that's the reverse of nepotism," Karan said at the LSE event.
Lashing out further, the 44-year-old filmmaker added: "I'm done with Kangana playing the woman and victim card. I am done! You cannot be this victim every time and have a sad story to tell about how you've been terrorised by the bad world of the industry … leave it."
blockquote class="twitter-tweet" data-lang="en">
@karanjohar response to @KanganaRanaut calling him a 'Flag-bearer of nepotism' Well said! KaranJohar @KaranJoharTeam pic.twitter.com/lCD0ej1v8o
— Neha Bhatt (@iAmNehaBhatt)
Karan also spoke about having launched star kids Alia Bhatt and Varun Dhawan in his directorial venture, Student of The Year (2012). "But that's just two of them who I have introduced. Sidharth Malhotra is also one-third of the trio, and he had nothing to do with movies, so I didn't get what she (Kangana) meant. But when she said 'movie mafia', what does she mean? What does she think we are doing – sitting here and not giving her work? Is that what makes us a mafia? No, maybe that was my choice. At the end of the day, maybe I am not interested in working with her. That doesn't make me movie mafia; that makes me a man with an opinion."
The filmmaker added that he could've chopped off that segment from the episode that was aired on TV, but chose to retain it. "I appreciate that she (Kangana) had a great perspective and point of view and everyone lauded her when she came on my show and 'gave it off to Karan' — according to what everyone said — and I am like, 'Of course', because I have been gracious enough to keep everything. I cut out none of it. I kept all of it, as it is. I could have edited so much out of it, as it's my show. But I said, 'No, let the world see this. This is her opinion, she must say it and voice it'. I gave her the platform."
Kangana Ranaut did not respond to our request for comment.
Follow @htshowbiz for more
Personalise your news feed. Follow trending topics