Nick Jonas gifts Priyanka Chopra a Maybach, she names it Extra Chopra Jonas. See pics
Mar 13, 2019 08:56 AM IST
Priyanka Chopra got a brand new car from husband Nick Jonas and she even gave it a name. Check it out.
Actor Priyanka Chopra is being spoilt by her singer husband Nick Jonas and loving every minute of it. She is back in America after a shooting a schedule of her Hindi film The Sky Is Pink and attending Akash Ambani's wedding. Upon reaching her second home in Los Angeles, she found a great new surprise waiting for her, the luxurious Maybach car.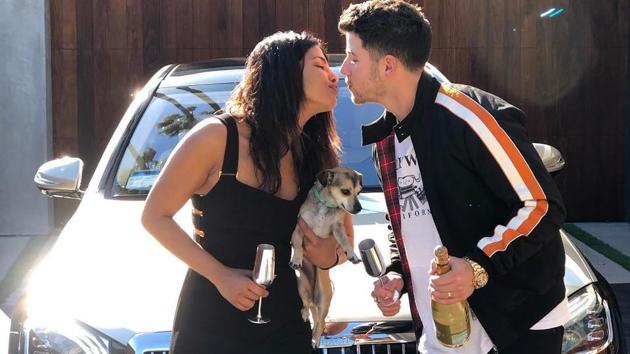 Jonas Brothers' comeback single Sucker has reached the #1 spot on the Billboard Hot 100 and to celebrate it, he gifted his wife a brand new car and Priyanka couldn't be happier. "When the hubby goes number one.. the wifey gets a @maybach !! Introducing.. Extra Chopra Jonas.. haha .. I love you baby!! Yaaay! Best husband ever," she captioned a picture of the two with their new car, her dog Diana and some champagne.
Their fans had hilarious reactions to the pic. "You're welcome! From every Jonas Brothers fan throwing their money at this comeback," wrote a fan. "Your loss Priyanka. If you were with me you'd got a nice old skool Nissan Micra," wrote another. "One time my bf got a raise and he bought me Taco Bell. Best day ever," commented another.
The Jonas Brothers—Nick, Joe and Kevin—released their comeback single last week and it became an instant hit with their fans, who had been waiting for new music since the band split four years ago. The music video for Sucker is shot in England and features the life partners of all three brothers—Priyanka, Danielle Jonas and Sophie Turner.
Priyanka gave a shout out to the three for making it to the top of the charts. She shared a link of the article on billboard.com. She tweeted on Monday: "The Jonas Brothers debut at No. 1 on Billboard Hot 100! OMG! I Could not be more proud of you guys (screaming inside)... Nick Jonas, Kevin Jonas and Joe Jonas." According to Billboard.com, the trio (Nick, Kevin and Joe) had previously reached a number 5 high with Burnin' Up in 2008.
Jonas Brothers' band was formed in 2005. The band has created hits like Burnin' up, Hold on and Fly with me. They split up in 2013.
Follow @htshowbiz for more