Remove Deepika Padukone and get Kangana Ranaut, says Rangoli to TLLL Foundation in latest tweetstorm over Mental Hai Kya
After publicly stirring controversy with actors Alia Bhatt and Ajay Devgn in recent days, Kangana Ranaut's sister Rangoli Chandel has taken on Deepika Padukone and her Live Love Laugh Foundation.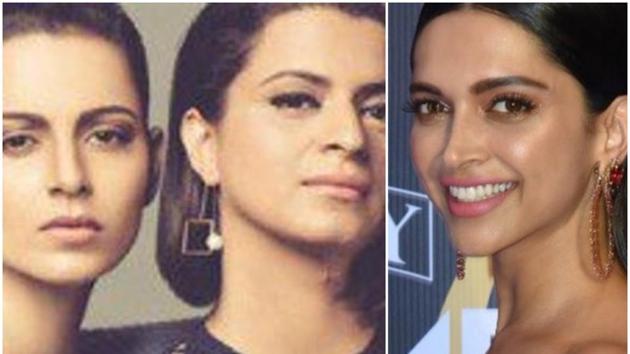 Updated on Apr 20, 2019 09:21 PM IST
Actor Kangana Ranaut's sister Rangoli Chandel has now set her sights on Deepika Padukone, after publicly criticising actors Alia Bhatt and Ajay Devgn in recent days. Rangoli took to Twitter on Saturday to respond to a statement made by Deepika's Live Love Laugh Foundation, which called into question the intention behind Kangana's upcoming film Mental Hai Kya. Rangoli said in a tweet that after watching the film, 'you will remove Deepika Padukone and get Kangana on as your brand ambassador'.
Deepika isn't the 'brand ambassador', but the founder of the Live Love Laugh Foundation, which is dedicated to removing the stigma and discrimination mental health patients face in India, by providing them with the necessary help, support and guidance.
The foundation had tweeted in reaction to a poster of Mental Hai Kya, "It is time we put an end to the use of words, imagery and/or the portrayal of persons with mental illness in a way that reinforces stereotypes. Many millions who suffer with mental illness in India already face tremendous stigma. Therefore,it is extremely important to be responsible and sensitive towards the needs of those suffering."
As usual listing her sister's many real accolades, Rangoli wrote, "Dear @TLLLFoundation Ms Ranaut who is recipient of three national awards and one of the driving forces of feminism movement in India through her films like Queen & Manikarnika is one f the most responsible artists,to jump the gun & assume the worse is nothing but immature. All I can say is that for Manikarnika we held screenings for school children in many states of India after MHK we would like to do the same with you."
She continued, "Genre of the film is such (thriller) that we can't reveal the exact plot or the parts that the characters are playing but of course we will acquire all the certificates we need to in order to show case the film to public."
Suggesting Deepika Padukone's battle with depression was because of a 'break-up', Rangoli said, 'now she is a happily married woman who is enjoying marital bliss.' She didn't forget to tag Deepika in her tweets.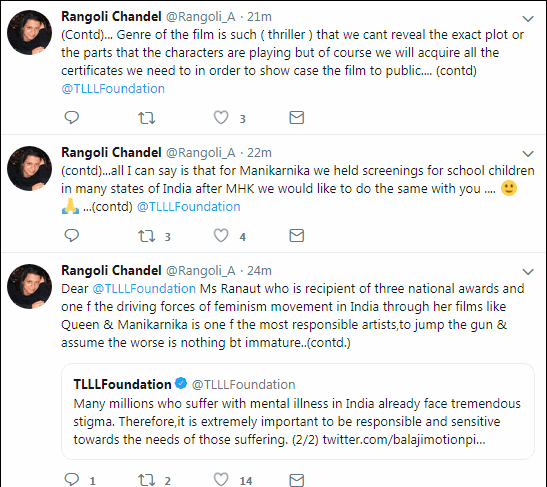 On Friday, the Indian Psychiatry Society objected to its title and demanded a change. The society had written in their letter to the Censor Board of Film Certification (CBFC) chairperson Prasoon Joshi, "We take serious objections to the title of the movie which is discriminative, stigmatising, degrading, inhumane in projecting mental disorders and people who suffer from mental disorders. We strongly demand that the title be removed with immediate effect preventing further damage to the modesty of mental health service users. We also demand to censor any sequence in the movie that is violating the rights of persons with mental disorder."
Also read: Days before her wedding, Deepika Padukone wrote this sincere note on her fight against depression. Details inside
Prior to making the comments in response to TLLL foundation, Rangoli had written on behalf of Kangana on Twitter that the film 'will trigger relevant talk' about the subject.
The film also stars Rajkummar Rao and Jimmy Shergill in supporting roles. Directed by Prakash Kovelamudi, written by Kanika Dhillon and produced by Ekta Kapoor, Mental Hai Kya is slated for a June 21 release.
Follow @htshowbiz for more
Close Story