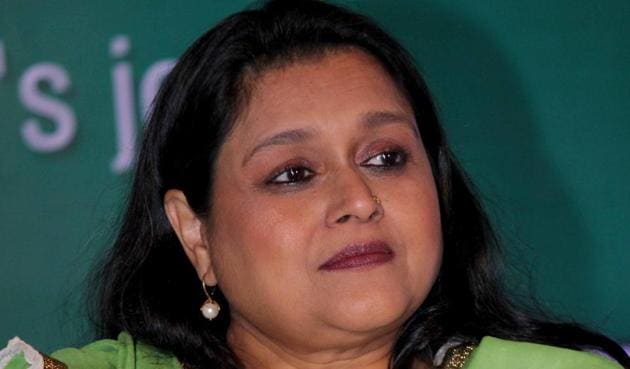 Supriya Pathak: I have learnt everything I know about acting from Pankaj sir
Ahead of her first theatre performance in the Capital, actor Supriya Pathak sounds excited, and credits her husband, Pankaj Kapur for teaching her everything she knows about the craft.
UPDATED ON APR 04, 2018 06:44 PM IST
She never wanted to pursue acting, but her family's close affiliation with the art influenced Supriya Pathak to take it up as a profession. The result has been an incredible filmography starting from Kalyug (1981) and Bazaar (1982) to Sarkar Raj (2008) and Goliyon Ki Rasleela Ram-Leela (2013). The humble performer, however, credits her husband Pankaj Kapur for her onscreen charisma.
"I didn't want to be an actor and was studying to be a [Bharatanatyam] dancer. My mother (Dina Pathak) was in theatre and I had grown up in such an environment that I was influenced by creativity. But, I have learnt everything about acting from Pankaj sir. It's an amazing experience and an honour to work with him... Not because he's my husband; it makes it more difficult that way. But, he is a great co-actor to work with," says the 57-year-old.
Pathak, who will be staging a Hindi-English play Dreamz-Saher with husband Pankaj Kapur at Siri Fort Auditorium on April 7, says this will be her debut theatre performance in the Capital. "I have never performed for Delhiites, but I know that audience here is culturally aware. They are so much into theatre that their response can give you another high. Though I really enjoyed doing music for Pankaj ji's play last time (in Delhi), but now I will be on the stage. I'm excited and looking forward to it," she adds.
Having won several awards for her various character portrayals, both in films and on television, Pathak emphasises the significance of theatre in every actor's life. "Theatre plays an important part in an actor's growth. Television and films are more of a director's medium. Theatre is an actor's medium. It gives an insight into how to portray a character while providing its finer details. In theatre, you own a stage and can do what you want. That kind of reaction — whether good or bad — is difficult to get anywhere else. It's a great feeling and gives you a high, and sometimes a low. But, you can measure your growth as an actor," she says.
Follow @htTweets for more

Close