Sushant Singh Rajput's family lawyer on Kangana Ranaut: 'She is on her own trip, trying to settle her own scores'
Aug 21, 2020 05:01 PM IST
Actor Sushant Singh Rajput's family lawyer Vikas Singh has said that while Kangana Ranaut may have made some valid points, she is also trying to further her own agenda and is 'on her own trip'.
Vikas Singh, the lawyer representing Sushant Singh Rajput's father KK Singh in his ongoing case against Rhea Chakraborty and members of her family, has addressed Kangana Ranaut's opinions on the matter. Kangana had proclaimed that Sushant was ostracised by the film industry, which could have been one of the reasons behind his suicide. Sushant died on June 14, and his father has accused his girlfriend Rhea of having abetted his suicide.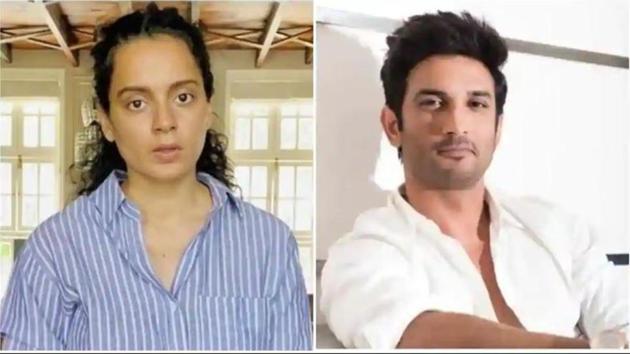 In an interview to Pinkvilla, Vikas Singh said, "She's trying to further her own agenda and attack people she has a personal issue with to settle her own scores. She seems to be on her own trip. The family's FIR has nothing to do with her claims at all."
Also read: Aditya Pancholi says Kangana Ranaut should return Padma Shri now that her theory on Sushant Singh Rajput's death has been disproved
Singh, however, also added that Kangana did make some relevant points. "Everyone knows nepotism exists in the industry. Sushant too must have faced discrimination. But that can't be the primary course of investigation in this case. Those can still be contributory factors. but the main case is on how Rhea and her gang tiled to completely exploit and finish Sushant.'
Kangana also shared a video interview clip of Singh on Twitter in which he said that Kangana could be right about some things. He said that the theory that the vacuum created by other facts might have been exploited by Rhea. Sharing the video, Kangana wrote, "SSR's family and their lawyer have always been very supportive of my struggle."
Kangana has accused everyone from Karan Johar to Aditya Chopra -- two industry personalities she has gone on the record against for personal reasons in the past -- of having sidelined Sushant. She recently called for Karan's Padma Shri to be taken away from him, and had in the past promised to return her own if her allegations were proven to be untrue. Kangana had told Republic TV in an interview, "I am telling you, if I have said anything, which I can't testify, which I can't prove, and which is not in public domain, I will return my Padma Shri."
Also read: Sushant Singh Rajput's family lawyer says death 'case has nothing to do with what Kangana Ranaut has suggested'
Sushant's case is being investigated by the Central Bureau of Investigation, while the Enforcement Directorate is conducting its own investigation into allegations of misappropriation of funds against Rhea and her brother, Showik Chakraborty.
Follow @htshowbiz for more